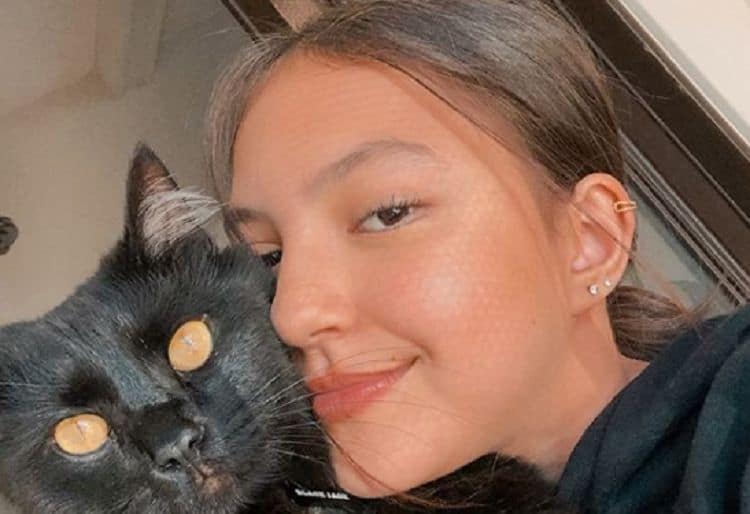 Elle Paris Legaspi is an American actress who is best known for her appearances on social media as a dancer and actress. She is a remarkable young lady who has captured the hearts of her audiences. Here are 10 things about Elle Paris Legaspi that you probably didn't know.
1. She started her career as a toddler
Unless you're one of Elle's fans who have been following her since she just started out in her venture as a social media star, you probably didn't know that she has been doing it since she was little more than a baby. She performed some of the cutest and most impressive dance moves on the internet before moving on to other aspects of her budding career as a star.
2. She was cast in several television shows
Elle's talent was noticed by the right people to launch her career as a child actress. She appeared in "Party of Five," "Vida," and "Animal Kingdom" in 2018. This added yet another dimension to her emerging career in the entertainment business. Prior to becoming an actress, she became famous for her freestyle dance moves and she even won a lot of dance-offs including "Jingle Jam 2017."
3. Legaspi started acting when she was in elementary school
Talent such as that displayed by Elle Paris Legaspi is rare in children of her age, but then again, she has been a performer for most of her life, in one way or another. She had an active and creative imagination as a child and by the time that she was in second grade she was in an acting ensemble, then went on to appear in school plays including "A Christmas Carol" and "The Lion King."
4. Elle is well represented by managers
We also learned that Elle Paris Legaspi is very well represented by three different professional management groups. Those who have taken an interest in helping her achieve her career goals include Stage Coach Entertainment, Clear Talent Group, and Abrams Artists Agency. This comes as no surprise though because Elle is a goldmine in the making when it comes to marketable talent.
5. Elle has only been professional for two years
Legaspi has been famous to some degree since she was a toddler, but she didn't turn professional until 2017. This is the year that her professional acting career was officially launched. She took an interest in Instagram's Emerging Artists, and it was through this group that she presented her first showcase.
6. She was self-taught prior to formal instruction
When Elle Paris Legaspi first made her introduction on social media, she was self-taught. The enterprising young lady saw the Las Vegas Jabbawockeez show and this inspired her to pursue krump and popping styles. She taught herself the moves from watching Youtube videos, then later took classes for a few years. She joined several groups including "The Bots," being voted as captain for Tot Bots, as well as Jr. Skullies Cew, adn Imma Beast Co.
7. She has been featured in several big-ticket events
Elle Paris Legaspi's fame has grown from the tremendous amount of exposure that she has had over teh past few years. Since turning professional, she has taken her dancing to new levels winning competitions and appearing in some very famous shows. She appeared in "The Ark" in Las Vegas, she performed at the "Harlem Globe Trotters Half Time Show," The Nutcracker" from Culture Shock fame, as well as performing at "World of Dance," and more.
8. She has nine acting credits in her portfolio
Elle started her acting career in the short film "Unnatural" in 2017, followed by a role in "to My Family," the same year. 2018 was a busy year for her when her acting career took flight. She appeared in the film short "Tabula Rasa," "On My Block" as a little girl, in "A Certain Kind of Man," "Animal Kingdom, " the film short "Duet," and a year-long contract in the television series "Vida" as young Lyn.
9. Elle's career is becoming more solid in television
Elle Paris Legaspi has already had more professional experience than actors many times her age. Securing roles seems effortless for her. She currently stars in the television series "Party of Five," as the character Valentina Acosta. There is every indication that her recurring role in the series will continue at least through 2020. She also appeared in an episode of the television series "Good Morning America" as a guest.
10. You can follow her on Instagram
Elle Paris Legaspi is also known by her nickname Baby Elle. This is a name that has stuck with her since she started performing on the internet as a toddler with some really cool dance moves. She has an active Instagram account and so far there have been 1,176 posts made with some great photos of her in action. She currently has 18.9,000 followers on the site and there is always room for more fans to join. It's a great resource for keeping up on what's going on in her life and in her career. She has a great philosophy for such a young and famous star that reads simply, "Stay humble, Be kind, Work hard." We can tell that young Elle lives by these principals because she has been working hard since she was a tiny little girl, and she hasn't let up since. She is one of those very special kids that was born with a natural talent that has taken her far already in the world of entertainment. She maintains a sweet and humble attitude towards life and Elle is developing into a beautiful girl and a talented dancer and actress. She is one to keep your eye on as she is just beginning her life as a professional. We expect to see great things from her in the years to come and we wish Elle the best of success.