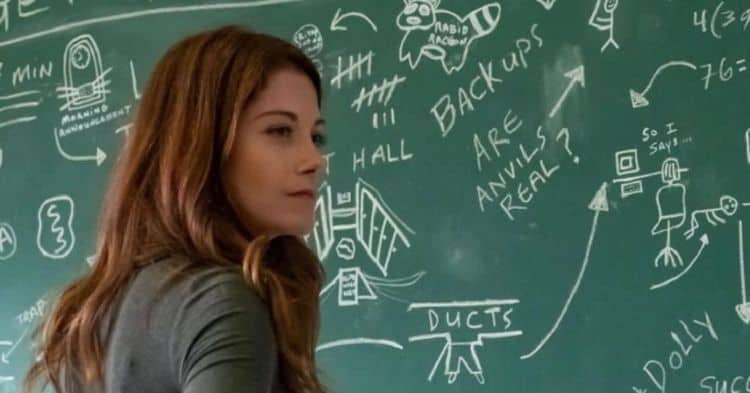 Elizabeth Alderfer has been acting professionally for more than a decade, but the last few years of her career have been huge. She got a major opportunity in 2017 when she was cast as Olivia in the TV series Disjointed. Sometimes, all it takes is one role to really get the ball rolling and that has certainly been the case for Elizabeth. Since Disjointed, Elizabeth has been on the rise and in 2021 she has had main roles in two shows: A.P. Bio and United States of Al. Elizabeth's versatility as an actress and her comedic timing have proven to be invaluable assets. Most of her fans would agree that it's going to be interesting to see where the next few years of her career take her. Here are 10 things you didn't know about Elizabeth Alderfer.
1. She Studied At New York University
Elizabeth was born and raised in upstate New York and she decided to stay in her home stage for college. She attended New York University where she studied at Tisch School of the Arts. Elizabeth earned a bachelor's degree in drama. She eventually relocated to the Los Angeles area where she lives today.
2. She Was In An Episode Of Orange Is The New Black
Jobs in the entertainment industry aren't easy to come by, so most actors are just happy to be working any time a job comes along. That being said, however, every actor dreams of working on a project that becomes successful, and Elizabeth can say she's done that multiple times in her career. In 2016, she appeared in an episode of the popular Netflix series Orange Is the New Black. Some of the other well-known shows she's been in include The Good Wife and Bull.
3. She's Married
Not only have the last few years of Elizabeth's career been exciting, but things in her personal life have been on the up and up too. In 2018, Elizabeth married Ali Bouzari. According to Ali's website, he "is a culinary scientist, author, educator, and co-founder of Pilot R&D, a culinary research and development company, and Render, a new food company that collaborates with the best restaurant chefs in the country to reinvent the way food lovers eat." The couple does not have any children.
4. She's A Strong Advocate For Human Rights
Lots of people in the public eye struggle with taking a firm stance on controversial issues because they never want to rub people the wrong way. For Elizabeth, however, standing up for what she believes in is far more important than how people feel about it. She is very passionate about human rights and has used her online presence to share resources regarding anti-racism and other subjects.
5. She Likes To Read
As someone who likes to share information with others, it only makes sense that Elizabeth is also someone who loves learning new information herself. When she isn't busy with work, she loves to curl up with a good book and learn about different topics and ideas. On occasion, she'll even share a photo of the book she's reading on Instagram.
6. She Enjoys Being Out In Nature
Working in an industry like entertainment can be stressful. No matter how much a person loves their job, it's impossible not to get overwhelmed sometimes. When Elizabeth isn't busy with work she loves to spend time outdoors enjoying the beauty of nature. This has become the perfect way for her to rest and recharge.
7. She's A Private Person
Many well-known actors find that it's a constant struggle to keep their personal lives out of the media. There are also plenty of actors who enjoy sharing every detail of their lives with the world. Elizabeth, however, has always enjoyed her privacy. She likes to keep all of the focus on her work and it doesn't appear that she does many intervaiews.
8. She Likes To Travel
Nothing can help expand a person's worldview like getting out and seeing new places. Elizabeth enjoys getting the chance to see other parts of the world and experience other cultures. Over the years she has gotten to do a good amount of traveling and she has visited places such as the Czech Republic, England, and Vienna.
9. She's Been In Commercials
Elizabeth's TV roles may be what made her famous, but that's not the only experience she has being in front of a camera. Early in her career, Elizabeth landed commercial roles with General Electric. In 2016, she was featured in three commercials for the well-known brand in which she played a character named Sarah.
10. She Has Theater Experience
In addition to the success she's had on screen, Sarah has also found success on the stage. Sarah has been in several plays including The Office and the Metal Blob and The Footage. These days, however, it looks like all of Sarah's attention is focused on her TV opportunities.