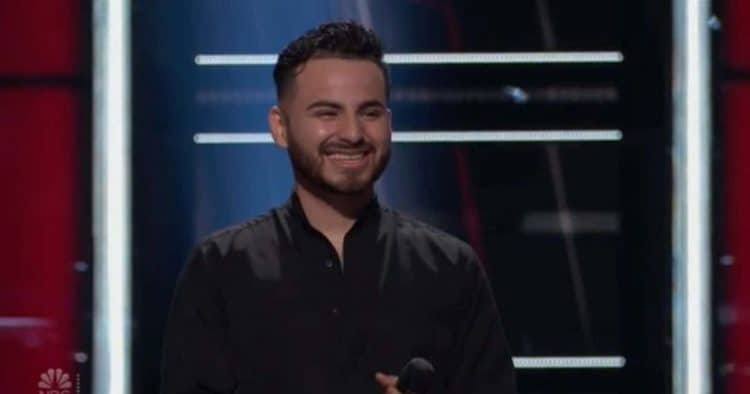 Season 19 of The Voice is just getting started, but Eli Zamora is already well on his way to becoming a fan favorite – and that's really saying a lot considering how many talented people we've seen so far on this season. His performance of "Ya lo Se, Que Tu Te Vas" " by Juan Gabriel may have only gotten one judge (Kelly) to turn their chair around, but people all over the internet are still talking about his beautiful voice. Even though it's too early to tell which competitors will find success on the show, lots of people are already putting Eli at the top of their list. Keep reading for 10 things you didn't know about The Voice contestant Eli Zamora.
1. He Spent His Early Years In Mexico
Even though Eli considers El Paso, TX to be his hometown, he actually spent much of his early childhood living in Mexico. He is very proud of his Mexican roots as well as the experiences he's had living in America. Both cultures have influenced him greatly and play a huge role in the type the type of artist he is.
2. He Is A Berklee College Alum
Once Eli decided that singing was what he wanted to do, he knew he had to take it seriously. He attended Berklee College of Music in Boston and became the first person in his family to earn a college degree. After college, he moved to Las Vegas to become a full-time musician.
3. His Wife Is A Social Media Influencer
Eli has a pretty solid social media presence with more than 19,000 followers on Instagram, but that number is peanuts compared to his wife, Lizzy Farra. Lizzy is a social media influencer and brand ambassador for a company called Bang Energy. She currently has nearly 140,000 followers on Instagram.
4. He Loves To Travel
Some people are content with never venturing too far away from their home town, but Eli isn't one of those people. He loves traveling and always looks forward to the experience of being in a different place. He has been to cities all over the United States and often returns home to Mexico.
5. He Has A YouTube Channel
Eli is working hard to make a name for himself in the music industry, and social media has become a powerful tool for him to do that. He started a YouTube channel where he uploads videos of himself performing. His channel has racked up more than 295,000 views and that number is likely going to increase thanks to The Voice.
6. He Loves Fashion
If you're going to be performing on TV, you might as well look your best, right? Right! With that being said, music isn't the only way that Eli likes to express himself. He is also into fashion and has a great sense of style. He loves putting outfits together and showing his personality through the clothes he wears.
7. He Auditioned For The Voice Several Times
Being on a show like The Voice can truly be a life changing experience for a singer's career. Even people who don't win have gone on to find success thanks to the exposure they received from being on the show. For that reason, being on The Voice has always been a dream of Eli's. Prior to this season, he says he auditioned about four other times.
8. He Hopes To Inspire Other Latino Artists
Eli is very proud to be able to represent not only himself, but the Latino community as a contestant on The Voice. He hopes that his presence will be inspirational for other Latino artists who are looking to make their dreams come true but aren't used to seeing people who look like them get these opportunities.
9. He Didn't Grow Up With A Love For Music
Eli comes from a very musical family, but ironically, he didn't grow up loving music wasn't interested in it for many years. In fact, it was something he somewhat rebelled against because he felt pressure to like music. It wasn't until he was in high school that he discovered that not only was he talented, but he loved performing.
10. He Always Wanted To Be On Team Kelly
There are some people who go on The Voice without having a preference for which judge they end up with, but for Eli, being on Team Kelly has always been his dream. He has been a fan of Kelly Clarkson since her American Idol days so when she turned her chair around he couldn't have been more excited.