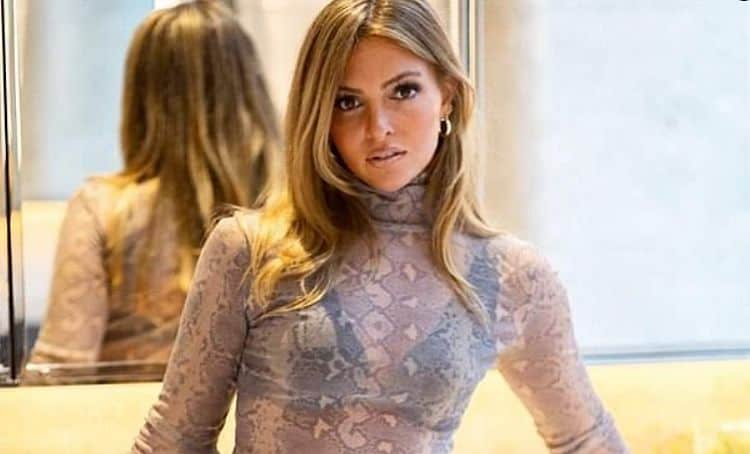 Just a few weeks ago, things were probably business as usual for Eleonora Srugo. All of that changed instantly, however, when rumors began to circulate that she was having a secret relationship with Bachelorette winner, Dale Moss. Not long after the rumors started did news break that Dale and The Bachelorette, Claire Crawley, went their separate ways. Eleonora has spoken out to clarify that although she and Dale have been platonic friends for years, they are not romantically involved and never have been. Although she has attempted to clear her name, there are still plenty of people out there who are convinced that Eleonora and Dale had something going on. Even with the negative attention she's been getting since the rumors have started spreading, Eleonora is taking it all in stride. Here are 10 things you didn't know about Eleonora Srugo.
1. She Lives In New York City
Like Dale Moss, Eleonora also lives in New York City. It looks like she was born and raised in the city as well. According to her LinkedIn profile, she attended Stuyvesant High School in Brooklyn and graduated in 2004. This means that she is likely in her mid 30s which makes her a few years older than Dale.
2. She Is Boston University Alum
Eleonora is much more than just a pretty face. She's also well educated and very successful. Despite being born and raised in the city, Eleonora decided to leave for college. She attended Boston University where she earned a bachelor's degree in business administration. She also attended Harvard Extension School although there's no information on the years she attended or whether or not she graduated.
3. She Works In Real Estate
Not only is education important to Eleonora, but she's also all about her business. Eleonora has worked in real estate for over a decade and she's achieved a lot of success. According to her Instagram bio, she is the number 13 producing real estate agent in New York City. She currently works for Douglas Elliman. Prior to real estate, she spent some time working in sales.
4. She Loves Being Near The Water
What better place is there to go to take your mind off of all the stresses of daily life than the beach? When the weather is nice, Eleonora loves spending time hanging out by the water. Whether it be a pool or a beach, you can always catch Eleonora soaking up the sun.
5. She Has A Large Social Media Following
Even before her name got caught up in the mix of Clare Crawley and Dale Moss' drama, Eleonora was already fairly popular online. She currently has more than 27,000 followers on Instagram. So far, it doesn't seem like her comments have been bombarded with people saying anything regarding the allegations.
6. She Speaks Several Languages
While most of us have struggled to even learn the basics of another language, Eleonora has managed to learn four. Eleonora's LinkedIn profile lists that she speaks four languages: English, Hebrew German, and Spanish. It doesn't specify whether she's fluent in any of them other than English.
7. She Loves Giving Back To The Youth
I wasn't joking when I said that Eleonora is all about her business. She is the founder of mentorship program called SHS Mentoring. The program works with high school students to help them reach their goals and prepare for the next phase in their lives.
8. She Likes To Travel
She may have lived in New York City for most of her life, but that doesn't mean Eleonora hasn't gotten the chance to experience what it's like to be in other places. Eleonora has done lots of traveling both in and outside of the United States. Eleonora's love for travel also goes hand in hand with the fact that she really loves to travel.
9. Her Dream Is To Be On QVC One Day
Eleonora is thankful for all of the opportunities she's gotten so far and she loves what she does. At the same time, however, there are some other things she would love to get the chance to accomplish some day. While talking to The Native Influence, Eleonora said, "If Real Estate doesn't work out I've always dreamed of selling product on QVC!"
10. She Loves Art
New York City is known all over the world for its unique culture and easy access to the arts. This might just be one of Eleonora's favorite things about living in the city. Eleonora has a deep appreciation for the arts and she loves visiting different museums in the city.
Tell us what's wrong with this post? How could we improve it? :)
Let us improve this post!