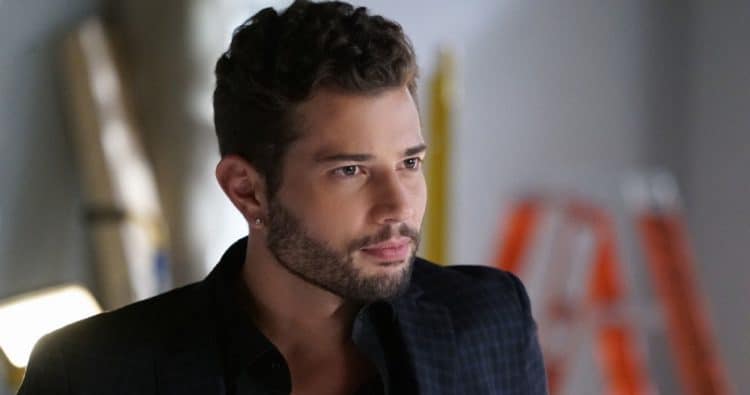 As the wealthiest family in Georgia, to say that the Carringtons are a complicated bunch would be an understatement. The entitled and stuffy clan aren't above using treachery and cunning tactics to get what they want. They use their money and influence to cheat their way through life. Sam Carrington is nothing like the family he married into. Sam, also known as Sammy Jo has been a recurring character in Dynasty since the pilot episode. Over the past four seasons his character has evolved tremendously. Here are ten reasons why he is a fan favorite:
1. He used to be poor
Unlike, the Carringtons Sam came from humbled beginnings. Sam was born and grew up in Venezuela where he would break into rich people homes through the vents and steal their previous belongings for a living. Because Sam knows what it's like to be poor his new found riches never changed the type of person he was. Although he came from meager beginnings he was able to integrate himself into the Carrrington lifestyle while remaining true to his beliefs and morals. Sam is just as funny and down to earth as he was when we first met him when he didn't have much to his name.
2. Sam is a great businessman
Although Sam was a bit unresponsive in the first season, when Steven Carrington divorced him and he was awarded with a generous settlement he invested the money into a beautiful luxury hotel. Yes, Sam invested his money wisely and made a lot of money from his hotel. Being a business owner was really tough for Sam at first. However, with the help of Anders he was able to navigate the challenges of his new world. In Season 4, Sam even considers expanding his brand by purchasing a luxury hotel in another state. No one really expected Sam to turn around and make such a name for himself but he did and he has experienced much success.
3. He's obsessed with Taylor Swift
Who doesn't love Taylor Swift? After all, she is America's sweetheart! Sam revealed his love for Taylor Swift during Season 3 when Fallon performed an epic duet way the opening of the Carrington Clinic.
4. He genuinely loved Steven
Despite Sam's sordid past, he genuinely loved Steven Carrington and was in the marriage for all the right reasons. Sam didn't want to give up on Steven even when he ran away to a different country and became involved with someone else. Despite the pain Steven Carrington caused Sam he always wanted what was best for him. Unfortunately, their marriage crumbled and Steven divorced him. However, Steven made sure Sam was well taken care of during the divorce.
5. Sam is a good friend
Fallon and Kirby always come to Sam with their problems and he always gives them the best advice. When Kirby first arrived to the Carrington manor, Sam helped her adopt to the lifestyle change and taught her how to property navigate the complexities of the wealthy family. Fallon also confides in Sam which is noteworthy because Fallon is a tough cookie and she doesn't trust anyone. Sam is her closet friend. Fallon and Kirby aren't the best of friends although their relationship significantly improves in Season 4. Sam manages to stay out their drama and be a good friend to both of the ladies.
6. He is a free-spirit
Sam is openly gay and he has never tried to hide who he was. He loved the benefits and the wealth that came with being married to Steven Carrington and he never tried to hide that because he is unapologetically him. Sam loves to dance which slightly annoys Anders the Carrington's butler in Season 1 who hates that he has such a care-free attitude. His skills on the dance floor are above average. Sam loves to have a good time and he sometimes parties a little bit too much. The rich lifestyle was definitely meant for Sam because he loved trying out the latest trends.
7. He loves his family
Sam goes to great lengths to protect and care for his family back in his country. At one point, he even has Blake robbed so he can send the money back home to his family in Venezuela.
8. Sam tries to do the right thing
Although Sam deeply loved his father when he found out his father was blackmailing Cristal he did the right thing by aligning himself with Cristal to bring his father down. This shows that he has morals and that he does what's right even if it involves the people he loves.