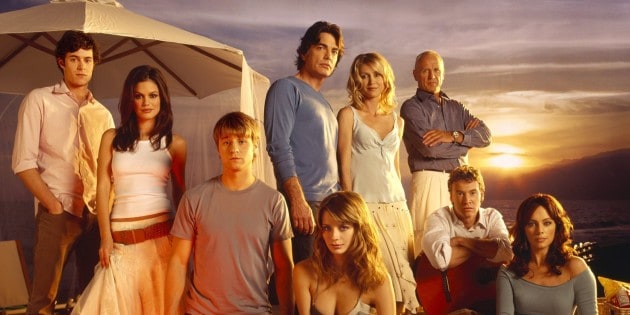 The summer of 2003 holds a special place in my heart. It was the year that I graduated from high school and was about to embark on an incredible journey into adulthood by being the first member of my family to attend college. It was also the summer that one of the greatest series of that decade would premiere. The drama was The OC, and its soap opera-worthy storylines had everyone talking. Whether it was Marissa overdosing on pills in Mexico, or Ryan getting into another fight with Luke, The OC was the show that all people of all ages would watch and discuss and obsess over. The series would run for four seasons before finally get the axe in February 2007. Since then, a majority of the cast can still be found on your televisions today, and we are not talking about reruns. Here is a look at what the cast of The OC has been up to for the last eight years.
Ben McKenzie as Ryan Atwood
Ben McKenzie carried over his "tough guy" persona from The OC to his next television project that came out in 2009. McKenzie played Officer Ben Sherman for all five seasons of the gritty police drama Southland. The series originally aired on NBC but was cancelled due to the adult subject matter depicted in every episode. TNT quickly picked the series up and would air it for four more seasons. Following Southland's cancellation on TNT, it did not take McKenzie long to find his next project. In 2014, he began planning James Gordon on the popular FOX drama Gotham.
Adam Brody as Seth Cohen
Adam Brody had quite an extensive resume prior to starring on The OC in 2003. He appeared on several MTV series, including Undressed and MTV's Now What? before playing lovable misfit Seth Cohen. Brody would go on to appear in several less than stellar films once The OC ended in 2007, including Jennifer's Body with Megan Fox and In the Land of Women alongside Meg Ryan and Kristen Stewart. In 2011, Brody returned to the small screen playing Woodie on the animated series Good Vibes. He would go on to star in the second season of the comedy Burning Love. His latest project, Billy & Billie, premiered on DirecTV.
Mischa Barton as Marissa Cooper
Mischa Barton played the very divisive Marissa Cooper throughout the first three seasons of The OC before Marissa tragically died in a car accident in the Season 3 finale. Since leaving the series, Barton has struggled to find success in other film and television projects, starring in the short-lived CW series The Beautiful Life: TBL and movies, such as Don't Fade Away, A Resurrection, and L.A. Slasher.
Rachel Bilson as Summer Roberts
Rachel Bilson became one of the breakout stars of The OC, portraying the wildly popular (and quotable) Summer Roberts. After the series ended in 2007, Bilson guest starred in other popular series, such as Chuck and How I Met Your Mother, before landing the starring role in the CW's Hart of Dixie, which premiered in 2011 and was produced by The OC creator Josh Schwartz and executive producer Stephanie Savage. Bilson has also appeared in films like Jumper, Waiting for Forever, and The To Do List.
Peter Gallagher as Sandy Cohen
The OC's Sandy Cohen has become one of the most beloved fathers in TV history, and a lot of that had to with Peter Gallagher's terrific performance as the justice-seeking, people-helping lawyer. Gallagher, who starred in films like While You Were Sleeping and American Beauty, before being cast in The OC, has continued to find steady work on television since the series ended with recurring roles in Californication, Rescue Me, Covert Affairs, and, most recently, HBO's Togetherness.
Kelly Rowan as Kirsten Cohen
As great as Sandy Cohen was, he was only one half of one of the greatest married TV couples of all-time. The other half of this iconic couple was Kirsten Cohen, played by Kelly Rowan. Since The OC's conclusion, Rowan has guested on series like Flashpoint and CSI: Miami and starred in the TV movie Cyberbully. Most recently, she was a series regular on TNT's Perception, which was cancelled after three seasons earlier this year.
Melinda Clarke as Julie Cooper
While she wasn't always the most likable character on The OC, there's no denying that Julie Cooper was the most discussed character on the series throughout its run. From hating Ryan as soon as she met him to marrying to Caleb to going back to school in the show's series finale, Julie did quite a lot during The OC's four seasons, and Melinda Clarke did a terrific job with it all and has been working pretty steadily since the show's conclusion. In the recent years, Clarke has guested on The Vampire Diaries, Entourage, CSI, Chuck, and Dallas starred as the villainous Amanda in The CW's Nikita. She's expected to appear as her character, Lady Heather, in the CSI series-finale, wrap-up movie that will air next month.
Autumn Reeser as Taylor Townsend
Autumn Reeser didn't make her debut on The OC until Season 3, when she recurred as the over-achieving, ultra-competitive Taylor Townsend. And while it took audiences a little bit of time for viewers to warm to Taylor's personality, by the end of the show's third season, she had become such a funny and endearing character that the creative made Reeser a series regular in Season 4 and set up a romance between Taylor and Ryan. In the year since The OC ended, Reeser has had roles on countless TV series, such as Entourage, No Ordinary Family, Last Resort, Necessary Roughness, and Hawaii Five-0. Most recently, she's recurred on ABC's summer series The Whispers, and funny enough, she will actually be playing Julie Cooper in The Unauthorized O.C. Musical, which bows Aug. 30 at The Montalbán in Los Angeles.
Alan Dale as Caleb Nichol
Alan Dale recurred as Kirsten's father, Caleb Nichol, throughout the first season of The OC before becoming a series regular in Season 2. When Caleb was killed off in the penultimate episode of Season 2, which aired in 2005, Dale went on to guest star in many other series, including Entourage, The Killing, and Once Upon a Time. More recently, he's appeared in major films, such as the Entourage movie and Captain America: The Winter Soldier.
Tate Donovan as Jimmy Cooper
Tate Donovan was a series regular on The OC during its first two seasons, leaving the series after the seventh episode of Season 2. He returned as Jimmy Cooper in the Season 2 finale and appeared in the first three episodes of Season 3 and one Season 4 episode as well. Since exiting The OC, Donovan has been a fixture on television, starring in numerous series, such as Damages, Hostages, and 24: Live Another Day. Most recently, he appeared on Showtime's Masters of Sex.
Willa Holland as Kaitlin Cooper
Will Holland first appeared on The OC in its third season, playing the recurring role of Marissa's sister, Kaitlin Cooper, a character originally portrayed by Shailene Woodley in Season 1 of the series. In Season 4, Holland was promoted to series regular, and she appeared in all 16 of The OC's final episodes. Since The OC ended, Holland has appeared in films, such as Legion and Straw Dogs, and she also guest starred multiple times on The CW's Gossip Girl. Since 2012, she has been a series regular on Arrow, portraying the character of Thea Queen.
Who was your favorite character on The OC? Let us know in the comments section below.
Photo by Everett/REX Shutterstock
Tell us what's wrong with this post? How could we improve it? :)
Let us improve this post!