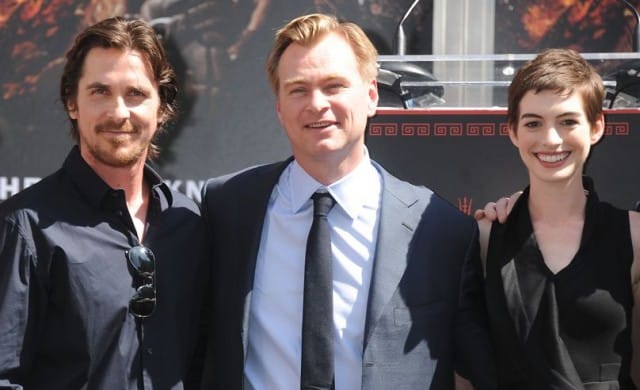 It seems as though a lot of the top directors in the film industry have certain go-to actors or actresses that appear in several of their movies. Maybe it's the simple fact that the director and actor work well together and trust each other, or it could be a case of the actor serving as a muse for the director, inspiring him and providing creative input. In any event, we took a look at eight pairings where the fact that the actor and director have worked together on several movies is definitely more than just a coincidence.
David Fincher & Brad Pitt
Pitt and Fincher worked together on The Curious Case of Benjamin Button, and Pitt starred in Fincher's breakout film, Se7en. Alien 3 was widely panned upon its release (although it has been viewed more favorably in recent years), and Pitt's strong performance in Se7en helped solidify a fantastic movie. Of course, it was Fincher's Fight Club in which Pitt really shined as the iconic Tyler Durden. I'm hoping these two will be working together in the future.
Tim Burton & Johnny Depp/Helena Bonham Carter
I don't care how many crazed teenage girl fans he may have, nobody loves Johnny Depp more than Tim Burton. It's almost harder to think of a Tim Burton movie that doesn't star Johnny Depp than one that does: Edward Scissorhands, Ed Wood, Sleepy Hollow, Charlie and the Chocolate Factory, and Sweeney Todd all starred Depp, who also lent his voice to The Corpse Bride. And that's not all – Depp played The Mad Hatter in Tim Burton's Alice in Wonderland.
Not far behind Depp, though, is the very talented Helena Bonham Carter, who is also married to Burton. Helena will have appeared in just one fewer Tim Burton film than Depp, as she has a role in Alice in Wonderland and has already appeared in Planet of the Apes, Big Fish, Charlie and the Chocolate Factory, and Sweeney Todd, and like Depp, has lent her voice to The Corpse Bride.
Martin Scorsese & Leonardo DiCaprio
The pairing of one of our generation's best directors with one of its best actors usually makes for spectacular results. Scorsese and Leo teamed up to make the Oscar-winning Departed, and The Aviator and Gangs of New York – both starring Leo – were nominated for Best Picture. There's really no reason for these two not to continue to work together in the future. We'd like to forget that Wolf of Wall Street was ever made.
Christopher Nolan & Christian Bale
Christopher Nolan still hasn't even directed 10 movies, but Christian Bale has appeared in plenty of them. Of all the pairings in this article – and from what I've read – Bale and Nolan collaborate creatively on a deeper level than the rest. Bale has starred in Nolan's The Prestige, and of course, Batman Begins and The Dark Knight, and The Dark Knight Rises. Michael Caine also appeared in all four of those films, but it's Bale's creative input that helps Nolan direct such captivating movies.
Robert Rodriguez & Salma Hayek
I don't know the level of creative input Salma Hayek provides Robert Rodriguez, but it's tough to not be inspired by her. Hayek was very apprehensive about dancing with a giant snake on her shoulders in From Dusk Till Dawn, and may have refused were it not Rodriguez who directed. Hayek has also starred or appeared in Desperado, Once Upon a Time in Mexico, Spy Kids 3-D: Game Over, The Faculty, and Roadracers, all directed by fellow Mexican Rodriguez.
Wes Anderson & Bill Murray
It takes a certain kind of actor to appear in a Wes Anderson movie, and it seems as if no actor is better suited for that task than Bill Murray. His persona and delivery are perfect for Wes Anderson's smug yet charming films, which is probably why he's appeared in five of them: Rushmore, The Royal Tenenbaums, The Life Aquatic, The Darjeeling Limited, and Fantastic Mr. Fox. The Wilson brothers (Luke and Owen) also share that certain zaniness that makes them perfect for Anderson's movies, but Murray is king and has them beat.
Ridley Scott & Russell Crowe
Like Leo and Scorsese, the pairing of Scott and Crowe is a synergenic blend of two of the more talented people in the industry. Aside from his incredible performance as Maximus in Scott's Gladiator, Crowe starred in A Good Year, American Gangster, Body of Lies, Noah and that Robin Hood movie no one saw.
James Cameron & Michael Biehn
I saved my favorite pair for last – James Cameron and Michael Biehn. Biehn's been in only three of Cameron's movies, but when you consider that Cameron has directed only eight major motion pictures (including Avatar), that's pretty good. Biehn played Dwayne Hicks in Aliens and the legendary Kyle Reese in The Terminator. Cameron brought Biehn back to play a bad guy in The Abyss, and must have trusted him, as this was a change of pace for the normally heroic actor. I've read rumors that Cameron has a role in the next Avatar for Biehn, so I'll be keeping my fingers crossed.
Tell us what's wrong with this post? How could we improve it? :)
Let us improve this post!