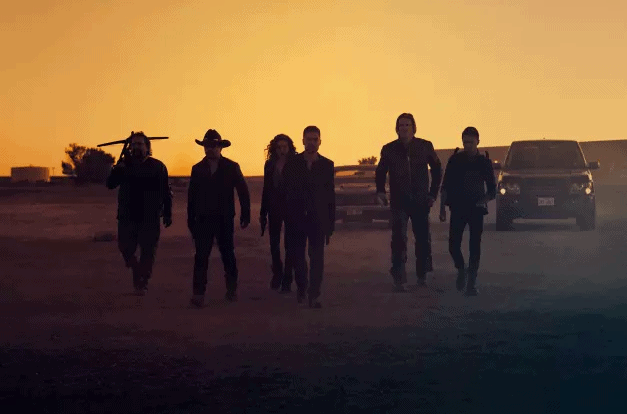 We're well into the second act of this season of From Dusk till Dawn: The Series, and all of the pieces seem to be in place to lead us to the end. Let's take a look at this week's new episode, "STRAITJACKET."
The episode opens five months earlier at the point that Kate was just breaking out of her asylum stay while possessed by Amaru. We finally see more of what happened that day, fully witnessing some creepy and powerful abilities that the girl has. Madison Davenport is doing a remarkable job as the possessed girl this season, and the opening scene of "STRAITJACKET" is a perfect example of her skill.
The main story of the episode begins with Richie waking up in the abandoned asylum, trapped by a straight jacket and having no idea what's going on. The setting is pretty unique for this series, and it's extremely effective at establishing a tone that completely engrosses you (in a lot of ways, it reminds me of the Resident Evil video games). My favorite part of this, as clichéd as it may be, is that it successfully brings the series back to its horror roots. It's true that the real essence of From Dusk till Dawn, whether the film or the series, is campy action mixed with the supernatural, but the core is clearly horror, something we don't really see that often on the series. When we do get it, though, it works really well. As good as the action often is, it's nice to get a spookier feel every now and then.
The second major plot of the episode deals with Seth bringing together a team of "heroes," essentially creating the Avengers of From Dusk till Dawn. His reason for doing so is because he receives a call from Richie, but it shoves Seth into a leadership role that's been building for three seasons. This development also gives us the most time we've had so far with the full team working together, and I'm surprised at how well it seems to be working so far. It will inevitably all come crashing down at some point (as is the nature of television), but I'm impressed with the job that the writers are doing.
My favorite thing about "STRAITJACKET" is the way it felt like an arc in a comic book. It progressed the story nicely, but it also served as a mostly one-off episode that just gives the audience a fun adventure. The best serialized television is that which is able to be episodic when the story calls for it, and the way in which From Dusk till Dawn is doing so is admirable.
Overall, "STRAITJACKET" is a very strong episode of From Dusk till Dawn that breaks up the repetition of a supernatural series by offering a fun one-off adventure that still nicely progresses the story and gives much appreciated character development. It's also a great use of horror for the show, which is something that lacks on this series a lot of the time.
What did you think of this week's episode of From Dusk till Dawn: The Series? Let us know your thoughts in the comments down below!
[Photo Credit: El Rey Network]
Tell us what's wrong with this post? How could we improve it? :)
Let us improve this post!