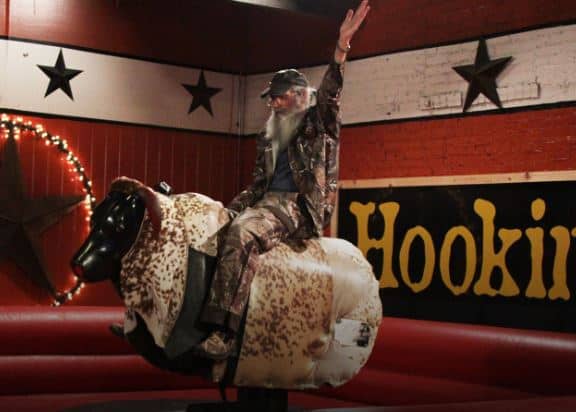 After eight seasons, shows can get a little tired. The premise has worn on people, and not as many people watch it now. But, even shows that have passed their prime can still send you little reminders of why you loved it. Duck Dynasty had one of those episodes last night. I don't really get tired of this show, but it's usually the same stuff, so it's hard to keep tuning into it every week (Covering it helps, in case you were wondering). However, this episode was one of the funniest ones they've ever done. I could not stop laughing. I was so glad to laugh at this show.
This week on Duck Dynasty: Willie, Alan, and John Luke challenge Kay's claim that she graduated from high school, so she sets out to prove it to them. Meanwhile, Si's "near death experience" implores him to create a bucket list, so the guys help him cross some things off of it.
I have not laughed so hard at an episode of Duck Dynasty in quite some time. I've laughed a lot, even this season, but this has been the best episode I've seen in the last several seasons. They really knew how to choose these storylines to cater to the family and their strengths as entertainers. Of course, anything that puts Si at the forefront is going to get laughs. But he also was involved in a struggle that everyone can relate to. A struggle with mortality is a real issue that many people face, and laughter can surely help people. Miss Kay's story is the same way. It was funny because it was easy to relate to. If I had graduated high school and my sons challenged me, I would want to prove them wrong too. This part of the story showcased a little more of the fun and goofy side of the family, but family was a strong, present element in the episode. Moving forward, getting on with life, those are themes that the Robertson family carried through the episode in ways that only they could.
As always, here are some of my favorite quotes/moments from the episode:
– "A Kung Fu Master is always on alert."- Si
-"If a tree fell and you ain't there to see it, I almost died."- Si, with philosophical answers to leave you scratching your head
-"I'm not a spring chicken anymore. I'm more of a fall chicken, and winter is coming."- Si, channeling his best Ned Stark
-"He must really be messed up in the head if he can't take a nap."- Jep, affirming Si's mental state
-"Be voted the most valuable player in the Little League World Series."- An item on Si's bucket list
– "A man who makes napalm in his kitchen for funsies."- Jase, describing Si's recreational activities
-"Big words will make you sound intelligent, but fart jokes make you hilarious."- Willie, giving John Luke solid Scrabble/life advice
-"Where's your high school? Narnia?"- Willie, teasing Kay about graduation
– "If Mamaw Kay beats you at this game, you shouldn't even go to college." – Willie to John Luke RE: Scrabble
– "It looks like a big snow cone."- Godwin, RE: A hot air balloon
– "You all are looking like ants…except for you, Godwin."- Si, from the balloon.
As you can see, there were a lot of funny moments in this week's episode. I wish I could list them all, but these were just my favorites. The Robertsons were featured in another hilarious episode, and I can't wait to see how they round out the season.
What did you guys think of this week's episode? Let us know in the comments!
Duck Dynasty airs Wednesdays at 9/8c on A&E.
[Photo via A&E]
Tell us what's wrong with this post? How could we improve it? :)
Let us improve this post!