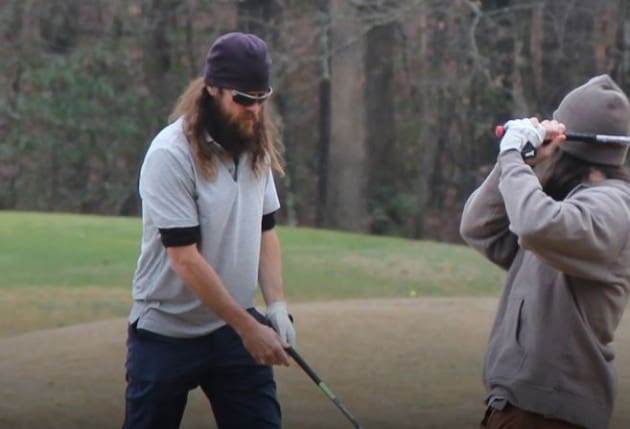 In some reality television, you can see a person's true colors. Eventually, the producers and creative team will push a human being past the scope of what they can handle, and they will have an epic meltdown. It seems that most reality shows can manufacture drama pretty easily. One of my favorite things about Duck Dynasty, however, is that isn't really the case. The best description of this show comes from the mug sitting on my desk, reading "Happy Happy Happy". This episode, among other things, highlighted the remarkable obstacles the Robertsons have overcome, and the love and respect they treat one another with. I'm convinced that there is no drama on this show because it doesn't exist in their family.
This week on Duck Dynasty: Willie, Jase, and Jep take John Luke out golfing before his wedding shower, all the while "showering" him with advice. Phil joins the ladies who are cooking in preparation for the couples shower, and Si joins the gift shopping ladies.
I appreciate Duck Dynasty for what it is. There are few frills. It takes a real, honest look at a family who doesn't let little things drag them down. The show has lasted this long because of its sheer optimism. As particularly expressed by this episode, they approach happy occasions with such joy. Situations created by having the future in-laws over for a shower and dinner could create extreme drama for the Kardashians, but the Robertsons created an uplifting endorsement of marriage and family. I certainly understand that reality TV is manufactured to some degree, but it reflects (probably even more so) each person's heart and character.
I'm so glad this show is back, because it is still SO. FUNNY. Si is at the top of his ridiculous quote game, and I loved all of the Robertson men on the golf course giving marriage advice. Recently married myself, a lot of the advice is sound, while other parts of it are completely ridiculous, but the optimistic and bright nature of the show shone through in these elements.
Here are some of my favorite quotes/moments from the episode:
– "Well, you're gonna marry me aren't you?"- Allegedly the tactic Jase used to propose to Missy
– "Marriage is about surfing"- Jep's analogy that turned wildly inappropriate very quickly
– "They need something practical, like a phone book, so they can get jobs."- Si, on what John Luke and Mary Kate need for their wedding shower
– "Apparently, I totally underestimated the amount of stupid advice my brothers would be giving." – Willie, on his "Robertson Men" golf outing
– I loved all the cuts of Jep's advice, particularly "Turn on R. Kelly's 'Bump & Grind'."
– "Let's get it Moroccan." A bad pun.
– Si got them a fire extinguisher and that was my favorite TV moment this week.
– "Move over Pat Sajak, there's a new host in town."- Si, over-confidently expressing his hosting ability before, during, and after his turn on "The Newlywed Game"
I'm so pleased with the premiere of Duck Dynasty's eighth season, and can only hope that it continues to improve and produce high quality, optimistic, and bright reality television for many more episodes and seasons to come.
What did you guys think? Did you enjoy the Season 8 premiere as much as I did? Let us know in the comments!
Duck Dynasty airs Wednesdays at 9:30pm ET on A&E.
[Photo via A&E]