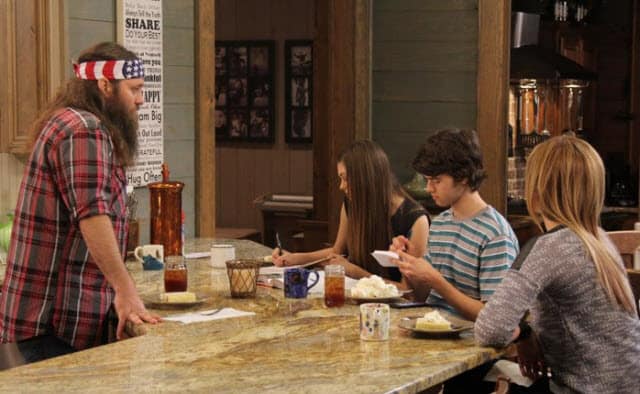 I don't know if you've missed the duck-calling, redneck Robertsons while the show has been on hiatus, but I sure have. The Robertsons have a sense of family and strength that is really important. I really enjoy watching their show because they set forth a good example to follow, and they always back up their talk with action. Duck Dynasty is always wholesome and entertaining, and that's something I can get behind.

Now that I'm off my soapbox, let's talk about this week's episode, shall we?
The Governor of Louisiana (Bobby Jindal) is coming to present Willie and Duck Commander with an award in business excellence. John Luke is going to give a speech introducing the governor. John Luke, like myself, is a procrastinator, so Willie (and Si) decide that he needs their help. This story line pretty much plays out like you'd expect. Willie runs around uptight about the governor's visit, getting on the guys in the warehouse for playing basketball, riding John Luke about his speech, etc. Then, when the governor arrives, he plays basketball in the warehouse with them, and John Luke nails his speech with zero help from Willie. Predictable? Yes. Funny and endearing? Also yes.
In the much smaller yet always amusing subplot, Miss Kay wants Phil to help her pick out an outfit to wear to see the governor. Phil (like most men) wants no part of it. So naturally, Phil tells her the first one is no good (too shiny) but the second one he approves. Of course, by then, Phil has lost Kay's trust on the matter, so Korie and Sadie parade her through in a bunch of outfits, all of which Phil says yes to. Yes. All of them. It doesn't matter who you are or what your thoughts are on any particular social issue, we could all learn a thing or two about relationships from Phil Robertson. On the matter of helping women with their outfits and looks, he offers this gem of advice "Tell her she looks great, then don't say anything else." Truer words were never spoken, Phil.
As I earlier mentioned, John Luke's speech goes off without a hitch, and Governor Jindal is very gracious and kind to Duck Commander and the Robertson family. At the end of this episode, Willie leads his prayer from the stage instead of the dinner table.
I really enjoyed this episode. It may not be one of the all time great Duck Dynasty episodes, but it still has all that quality family time and classic quips that any other episode has, plus governors!! All in all, it was a great way to kick of Season 6. Here are some of my favorite quotes from the episode:
"That's tight"- Jep
"Sadie farted"- John Luke
"The man (Willie) sounds like R2D2, no one understands a word he's saying."- Si
"I'll go to jail before I'll reach down and pick up dog poop"- Jase
Also, let's all hope that Godwin is never elected governor of Louisiana, so he can't take their jalapeno chips away!
I hope you all enjoyed the return of Duck Dynasty. I know I sure did! Be sure to stick with me throughout Season 6! Our favorite sharp dressed men are back!! 'Til next week!!
[Photo via A&E]