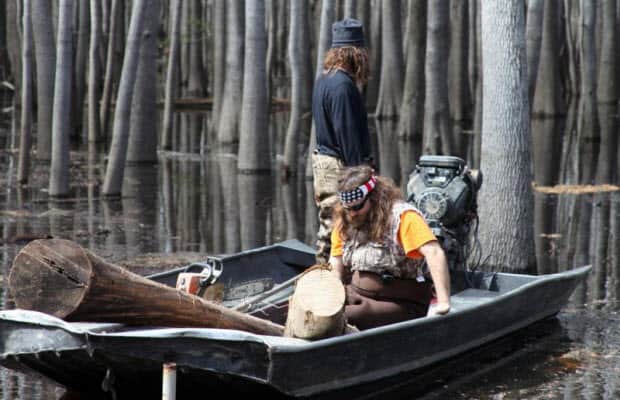 Hello everyone! It's such an honor to begin my career at TV Overmind writing about the fifth season of everyone's favorite duck-calling "sharp dressed" men, The Robertsons of Duck Dynasty.
In the premiere episode, Rebecca (the honorary Robertson) returns home from "the wrong" LA (Los Angeles = Wrong, Louisiana= Right), and Willie worries about her being home forever, while Jase and the guys prepare the warehouse for her surprise "Welcome home" party. Meanwhile Si goes over to Phil and Kay's even though he is sick, and soon Kay becomes infected.
Like always, I gave many a hearty chuckle at this episode. Jase first got me giggling when he complained about how he hates group texting, and then later as he explained why women should not be left to party plan alone. "Every day would be a quinceanera if left up to the women". Jase is a smart man, gentlemen. Make sure you're writing this down.
Though Willie is the "main character" of this fun little show, the best (or at least funniest and/or most ridiculous) moments (and of course, my favorite) often come from father Phil and Uncle Si (the New York Times bestselling authors). While Si was sick at Phil and Kay's house, Kay was taking care of him and he wanted to watch some of his favorite movies, the Air Bud series, though Phil prefers Jason Bourne. Phil wants to know if the dog that can play every sport imaginable can do what Bourne does, to which Si replies "Yeah, if he wanted to, but he's into sports".
Since Kay and Si are both sick, Phil hangs back to take care of them but delivers the gumbo for the party, tying the two story lines together and delivering this incredible piece of well wishing "may you never barf up your gumbo". I appreciate the sentiment, big guy.
After the successful surprise, the episode ends the Duck Dynasty way: with a prayer. I have to say this is maybe my favorite moment of the show. No matter how ridiculous the meat of the show is, it adds a layer of humility to people who could easily become larger than life.
A&E wasted no time in immediately bringing us episode 2 of Season 5 of Duck Dynasty, which opens with Willie's wife Korie insisting that he interview her brother, John David, to be his new assistant. As apprehensive as Willie may be, his worries quickly fade when they bond over a great cinematic masterpiece (which seems to be a trend so far this season), Nacho Libre. Upon which John David almost immediately gets the job. Honestly, I wish all hiring processes were based on how well you quote Nacho Libre. I'd be a highly sought after candidate.
Meanwhile at Phil and Kay's, Jep brings the kids over to get them out of the house because his wife is sick, and Si decides to take them on a treasure hunt. I do not understand how it happened, because no one seemed to think it was a good idea except for Si. Unfortunately the only other suggestion was from Phil and it involved finding dung (or as Miss Kay put it, "poo poo in a pancake") and throwing it at each other. Jep vetoes that, leaving only the Si-proclaimed "great-amazing-just-great-out-of-this-world-treasure-hunt". Still doesn't sound that fun, and it was about as fun as it sounded. Not Si's best antic, but still perfectly in character for him.
At the warehouse, Jase gives John David a hard time about being the new Manny ("like a nanny, but a manny") and meets him with nothing but hostility as he adjusts to his new job. To be fair "his new job" pretty well consists of watching YouTube videos with Willie and telling the guys to do stuff that Willie sends him to say. Eventually, after a few missteps, JD makes the right moves in winning over Jase and the other Duck Commander employees. I knew all along that Willie Jr. would fit right in, and it's not just because of his beard.
Ultimately, Duck Dynasty has returned to classic form. In it's short 5 seasons, it has not yet lost its charm, comedic effects, or humility, and for that I'm truly grateful. Covering it has been a lot of fun and I'm sure it will continue to be. So far Season 5 has been true to form! Well done, A&E! Well done!
[Picture via A&E]