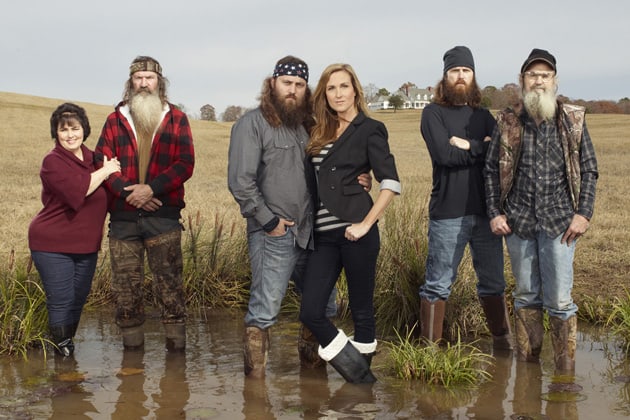 This week's Duck Dynasty involved the search for a new Duck Commander logo, and Phil helping his granddaughter with homework. Now, if that doesn't sound fun to you, you can just get out.
This week, we found Willie in the midst of a search for a new Duck Commander logo as a way to "re-brand" the ancient logo, so he hires a branding consultant, much to the chagrin of Jase. Jase thinks (and I can't say that I disagree) that the branding consultant's advice and logos were "stupid" and that he and the boys could do a better job. Now THAT is the fun part. Jase and the boys all proceed to design their own logos, and get their own business cards printed up with brand new titles! They wanted business cards for the same reason Mitch Hedberg did…they want to win some lunches!
(Update on the Duck Commander logo: It stayed the same)
Meanwhile, Willie is helping Bella with her homework (glitter and beards usually don't mix, FYI). Bella informs him that she can get extra credit by finding the highest altitude in West Monroe and taking a picture with the marker. Willie is sure that Phil will know where to find said marker, so they all set off in the woods together. SPOILER: She doesn't find it,but she does get Phil started on the government. Bet you can guess how that turned out!
There was nothing truly extraordinary about this episode of Duck Dynasty, but it was the same old formula that we all love so much. In this case, "not extraordinary" does not necessarily equal "bad". It was fun and it had a lot of fun moments, but it was not a standout episode. It fit the formula, it was a fun little half hour. No harm, no fowl (get it?).
As always, our favorite duck calling rednecks gave us some fun and memorable quips. Here are some of my favorite quotes from the episode:
"Never use anything that's got a government stamp on it"- Phil
Godwin: "I don't like collars"
Jase: "You're wearing one"
Si: "He can't see it 'cause he ain't got no neck"
"As a kid, he taught me how canines procreate. I did not need to know that at 7."- Willie, on getting a Phil-osophical education
Bella: "Everything needs glitter"
Willie: "You're starting to sound like Jep"
"Korie, come in here and tell me if this looks like a butt!"- Willie, told by his staff that a logo suggestion looked "like a butt".
You can always count on some funny sayings from our favorite redneck family. I hope you all enjoyed this week's episode. There are always funny things going on in this show, and I can never get enough. If I missed one of your favorite quotes or you just want to discuss, please hit up the comments! See you soon, Duck Commander faithful!!
[Photo via A&E]