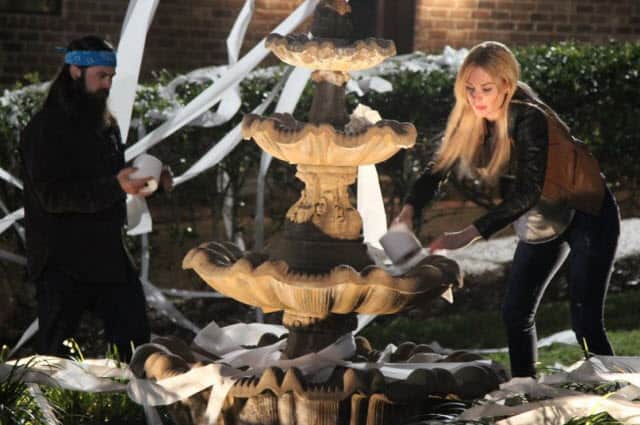 I had a really good time watching this episode of Duck Dynasty. It was a great, fun episode with all of my favorite elements.
In the main plot, Jase's son, Reed Silas Robertson, was graduating from high school. Jase and Missy had a fight because Jase didn't think that Reed needed to go to his graduation ceremony, while Missy (and everyone else) thinks that he should. Jase went frog-hunting instead of attending his own graduation ceremony, and compromises with Missy by taking Reed on a late-night frog hunt the night before his graduation. Willie and Si tag along, and it turns into a night of male bonding, wisdom imparting, Si-isms, and catching a LOT of frogs.
In the subplot, Jep finds out that his wife has never rolled (or where I come from, "toilet papered") a house. So, Jep, Korie, Jessica, and Miss Kay set out to "roll" Jase and Missy's place. Of course, Jep is funny,but Miss Kay tagging along had to be one of the greatest things that's ever happened on the show. She arranged the TP like "a quilt" on the bushes and hid instead of running when Missy caught them. It was a great little bit, and inspired me to get my vandalism on (just kidding, officer)!!
This episode was a lot of fun. Graduations are important, and it showed an important brotherly bond between Jase and Willie, along with some really great, funny moments. Here are some of my favorite quotes from the episode:
Jase: "I don't conform to the norms of society"
Godwin: "Like Cheers! NORM!!"
"I'm always for a good kidnapping"- Si
"If he doesn't get dressed he will stand out at graduation"- Jase
"Who wouldn't want to take their whole family with them to college?"- Miss Kay
"Here's some advice for college: If it doesn't work out, just quit!"- Si
"I really might pee in my pants!"- Miss Kay, while running
"You Dr. Willie now?"- Jase, upon receiving unsolicited advice from his brother
As you can see there were a lot of funny quotes this episode. What were some of yours? Did you find this episode as amusing as I did? Sound off in the comments! I'll be back with the next new episode of Duck Dynasty!
[Photo via A&E]