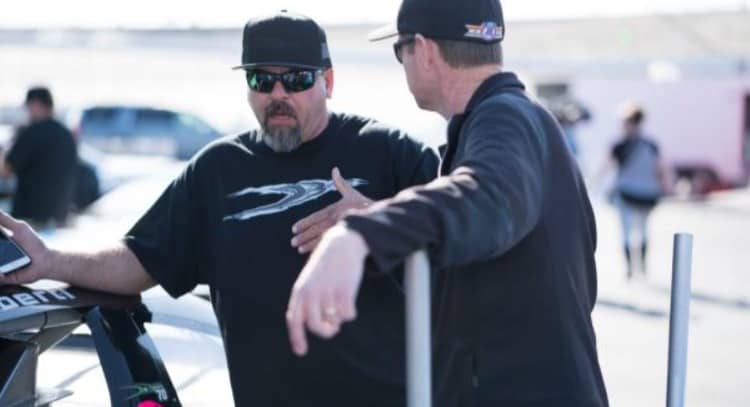 Doug DeBerti is best known for his work in the television series "Twin Turbos." The series features a father and son who are both custom car builders. They are creative geniuses who have a strong command of the art of creating new custom builds that are not only one-of-a-kind vehicles, but they are also the state of the art when it comes to the technology that they are equipped with. These two push the limits when it comes to custom builds, and here are 10 things that you probably didn't know about Doug DeBerti, to help you become better acquainted with him.
1. Doug established his own business
Doug is a highly experienced auto mechanic and fabricator who has taken the skills that he has developed throughout the years to establish his own business. He is the owner of DeBerti Design, a custom auto shop that is located in Bakersfield, California. He and his son are the principal designers in the company and together they create some of the most unique custom vehicles that the world has ever seen.
2. He comes with high recommendations
Doug has established a solid reputation with those that he has worked with at a variety of different companies while he was building his current knowledge and skill set. He has come a long way since he first started out and at this point in his career, he has become known as one of the most innovative automotive designers and custom vehicle creators in the country today.
3. He's an award-winning artist
We also learned from reading a recommendation for Doug that he has won several awards. According to his LinkedIn site, he has produced several award-winning SEMA vehicles. He is given kudos for the designs that he produces for his company because they are so highly innovative. He is also credited with developing new design concepts that others so far have not been able to copy. He is an artist and a "solid businessman."
4. Doug is a man of integrity
Mr. DeBerti has also established a solid reputation amongst his peers and his customers as being a man of integrity. He is not only easy to work with, but he is also reputed for being honest and reliable. This is the kind of person that people want to do business with because he inspires confidence, and his designs so far have not failed to be successful.
5. Doug DeBerti had humble beginnings
Mr. DeBerti makes no bones about the fact that he was raised in a large family of six who didn't have much money. He was born in Butte, Montana, where he was raised with his siblings. There wasn't a lot to go around so Doug made the majority of the toys that he, his family and friends played with. He enjoyed going to the refuse site with his grandfather to find old parts to make custom bikes. This is where he developed his passion for customizing vehicles.
6. He moved from Montana right out of high school
As soon as Doug DeBerti graduated from high school, he was ready to go out and pursue his passion. He didn't have much money but he left town in an old 1959 Chevrolet truck with the clothes that he was wearing and a few dollars in his pocket. He moved to Bakersfield, California. He didn't have a huge stake to get by but he did have the confidence in himself to believe that he could accomplish his goals if he worked hard enough.
7. Doug took any job he could find
When Doug DeBerti arrived in Bakersfield, he didn't have much money and he knew that he had to find a job right away. He took any job that he could get hired for. He worked on a variety of different jobs which included work on a drilling rig, pumping gas, and flipping burgers in a fast-food restaurant. He was very determined to reach his career objectives. He also made wood furniture and toys which he sold out of his garage, in addition to doing auto tune-ups for a fee. He worked hard to earn that money that he needed to get his business started.
8. He worked full-time while running his business
Mr. DeBerti held down a full-time job while he also worked out of his garage. This was extreme dedication. When he had enough of a stake he started a small fabricating business and he built custom car and truck grills. This was just the beginning. Soon the small business that had started out as a hobby grew and expanded into a custom Billet Grill fabrication shop. Doug hired others to work for him and within just a few short years, he had designed more than 4,000 custom parts that were inventoried in his business.
9. He loves his Segway
Doug could build almost any kind of custom vehicle that a customer could contrive in their minds, and he has done just that. He owns a Segway that he enjoys riding through the backwoods when he takes his dog Jenny for a walk. This is no ordinary Segway, but rather a fully customized off-road vehicle of his own creation.
10. He passed his craft on to his son
Doug DeBerti has passed on his skills and knowledge of design and fabrication to his son Brad. Brad also shares his father's passion for custom vehicle building. He started Brad out young when he was just 5 years old. He would watch his father in the shop and through the years he has learned how to do the same kind of work that his father performs and together, the two create some of the most unique custom designs in the world. The DeBerti's have been the recipients of several awards for their design efforts. One of the best things about the show "Twin Turbos" is that it shows how well a father and son can work together to accomplish amazing feats.
Tell us what's wrong with this post? How could we improve it? :)
Let us improve this post!