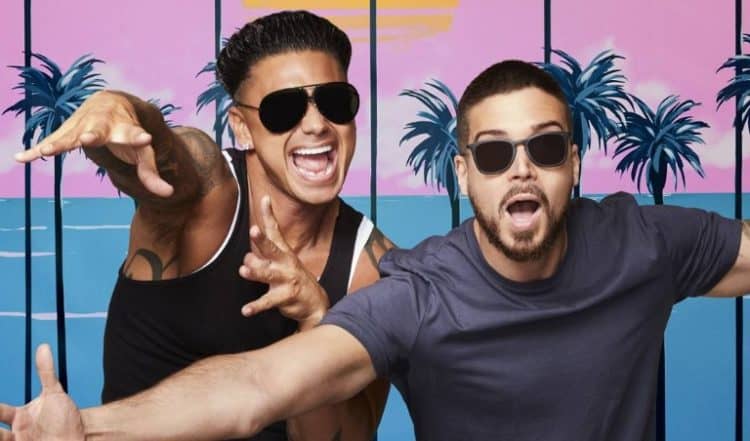 Double Shot at Love is a dating game show. To be exact, it is a dating game show involving MTV's reality TV stars, meaning that it might interest people who follow those reality TV shows. Here are 10 things that you may or may not have known about Double Shot At Love:
1. Spinoff
Double Shot at Love is a spinoff of A Shot at Love with Tila Tequila, which was a dating game show that ran for a couple of seasons in the late 2000s. There was a time when the titular individual was relatively well-known as a TV personality as well as a social media personality. Nowadays, she tends to be better-known for being an antisemitic supporter of Adolph Hitler who spends her time with white nationalists in spite of the fact that she is Vietnamese-American.
2. The Parent Show Was Pretty Fake
Perhaps unsurprisingly, the parent show was pretty fake, as shown by the whole controversy over whether Tila Tequila was actually bisexual or not. Confusingly, Tila Tequila has claimed three different things at three different points. At around the time of the show, she claimed that she was bisexual. After the show ended, she claimed that she was actually lesbian. Recently, Tila Tequila claimed that she was heterosexual by stating that her time on A Shot at Love with Tila Tequila was in her own words, being "gay for pay."
3. Used to Be a Bisexual Dating Game Show
By this point, it should be clear that A Shot at Love with Tila Tequila was a bisexual-themed dating game show, meaning that there were both male and female participants for the show. This theme was true for the follow-up season as well. However, this isn't true for the latest season centered on Pauly D and Vinny Guadagnino. Instead, the latest season features 20 female contestants.
4. There Were Episodes Starring the Ikki Twins
Between Tila Tequila and the current stars, there were episodes centered on the so-called Ikki Twins. In short, Erica and Victoria Mongeon are called thus because of their nicknames, which are Ikki and Vikki. The twins started out as models for Hooters calendars before going on to get more and more high-profile jobs, with the result that they eventually winded up becoming reality TV stars. Primarily, this meant A Double Shot for Love, which was named for them. However, they have had roles on other TV shows as well.
5. One of the Episodes Was Dedicated to One of the Contestants
When the show was still centered on the Ikki Twins, one of the episodes was dedicated to one of the contestants named Kandi Hutchinson. This was because Hutchinson was killed in a car accident not long after production finished up for the season. Due to this, the people behind the show made a choice to edit out some of her more outrageous moments on the footage before dedicating one of the episodes to her memory out of respect for her and for her family.
6. Current Show Being Handled By Sally Ann Salsano
Currently, Double Shot at Love is being handled by Sally Ann Salsano. Generally speaking, her name shouldn't be that well-known even to people who watch a lot of MTV's reality TV shows. However, Salsano has nonetheless had a significant effect on those reality TV shows as well as reality TV as a whole, seeing as how she has been a pivotal figure behind a number of well-known examples.
7. Salsano Says that the Stars Are Ready to Settle Down
Reality TV being reality TV, it is perfectly understandable for interested individuals to wonder whether the two stars are actually ready to settle down or not. Certainly, the track records of their predecessors don't inspire much confidence in this matter. However, when Salsano was asked whether the two stars are ready to settle down or not, she answered in the positive.
8. Dependent on the Right Person
Of course, Salsano's answer was a bit more complicated than either a simple "Yes" or "No." As she sees it, the two stars have reached a point in their lives at which they are ready to settle down. However, whether they will actually choose to settle down with someone for the long run is very much dependent on whether they can find the right person to settle down with.
9. Salsano Is Fond of the Jersey Shore Cast Members
On a related note, it seems that Salsano is pretty fond of the Jersey Shore cast members. For instance, she said that they are "really, really, really good kids" who have managed to remain more or less themselves in spite of their rise to fame. Furthermore, Salsano has said that she is proud of them all while listing their personal successes such as their kids and their marriages. On the whole, the interview gave off an almost material feel on the part of Salsano. Amusingly, she apparently actually has a pretty adorable nickname for the lot, seeing as how she called the Jersey Shore cast members "my little meatballs" when describing her feelings about hearing that they are having kids of their own.
10. The Numbers Seem to Be Slipping
The latest season of Double Shot at Love has just started up. As a result, it is still too soon to say exactly how well it will have performed once every episode has been broadcast. However, there is some indication that its numbers in its second week are slipping, seeing as how it slipped from the first and second slot to the fifth slot in its second week. Certainly, the viewership for Double Shot at Love was impacted like everything else on TV by the NBA playoffs, but the fact that it wasn't able to hold its ground against non-NBA playoff-related shows doesn't exactly bode well for its future.
Tell us what's wrong with this post? How could we improve it? :)
Let us improve this post!