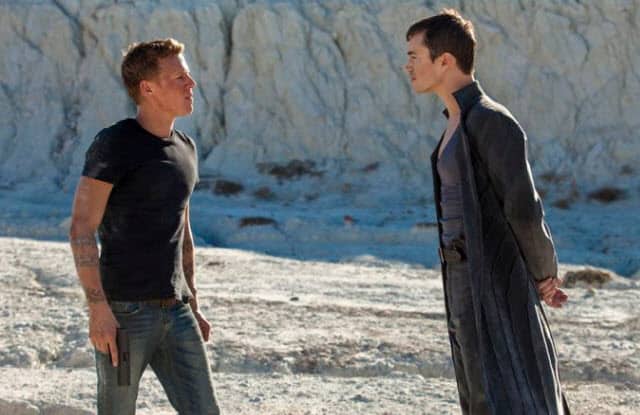 If Dominion is supposedly about the Chosen One and how he's going to rise above and stop the angels from taking over Earth or at least Vega, this episode's plot did not involve him too much. It showed him training but that was about it. I thought it was great! I do like Alex as a character and as an actor and I do like where the show is going with that storyline but that took a backseat in tonight's episode. This time it was all about the Senate, the backdoor politics, and the future of Vega. I think that viewers got to see the characters tonight in the spotlight as opposed to just 'sidekicks,' so to say, merely there to help or hurt the Chosen One.
We first have Whele & William and their messed-up family dynamic. Here we see a father who will do anything to get more power while we see a son who will do whatever it takes to fight against him. He will also do whatever it takes to be with the one he loves. It was a little sad to see William tell his father that Claire was coming to love him when she clearly is not. She may tell Alex she can't be with him but she certainly doesn't love William. Whele is a different story. In this episode, you both felt more for him and felt less. You saw what he had to do to survive. You saw the memento's he had. I completely related to that. On the other hand, you wanted to kill him when he said that somehow Claire's father heart condition had slipped out. You also realized that he doesn't care for anybody under him when he continues to blackmail Becca about her affair with Michael. It all came to a head when father and son collided, the father saying that William will need him forever and William telling him that he was the man my father made him. Not sure if there was an apology in there because even though it does end with a kiss on the head, a scene heavy with symbolism from the Bible, it later turns out that he has planted his own gloves for Claire to and mistakenly thinks they're Whele's thus blackmailing him.
Moving onto to Claire and her father Riesen, the viewers see that she is stepping up as leader while he is simply giving in to the circumstances surrounding him. Claire knows what she has to do as a leader and does it. She knew she needed rights for Vega's citizens so she agreed to marry William to get them. She knew that to get the Senate to stop that vote she was going to have to blackmail William so she did. While I liked the other Claire, the one who cried over Bixby's ashes in the beginning of the episode, I'm also liking the new Claire, the "future lady of the city." While she may not want to in the beginning of the episode, she is becoming her new role whether she admits it or not. Riesen on the other hand has just given up. The entire time this episode he spent dealing with his eight-ball girlfriend named Clementine. In this episode, she only makes him more and more upset. I always figured that Riesen, a respected general, would go see the eight-ball to de-stress. Then, in this episode, I realized who she was and everything became clear to me… almost. He told Michael he loved her but when Michael told him he could capture her he said just to "take her down." Again, I thought it was just to keep the relationship a secret but then I found out who Clementine was- Claire's mother! Can't wait to see how that one plays out next week!!
I do like how far this show is taking its viewers. It's not just the average Chosen One show on ScFy. It's a show that centers around a Chosen One that has a political background with some family drama mixed in… and that's just right now! Who knows what's going to happen next week?!
[Photo via Syfy]