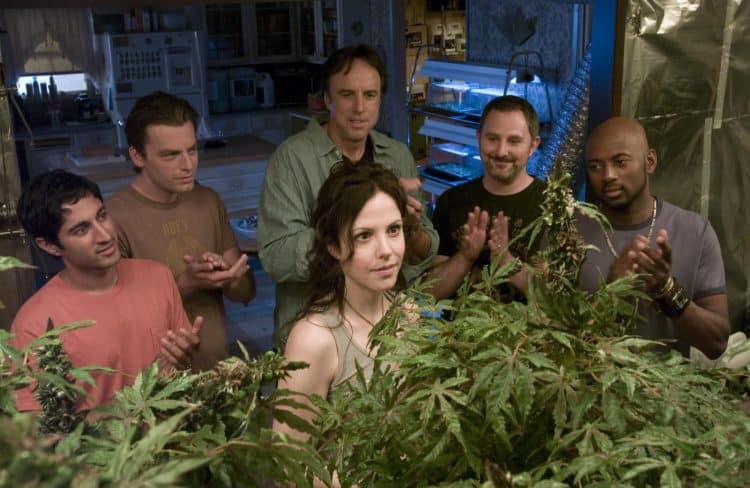 Weeds was another one of the popular shows that came out in the early 2000s. The Showtime original was about a suburban mother dealing with the terrible loss of her husband, so she takes up drug dealing to maintain her high profile and privileged lifestyle. The series would go on for eight seasons and though critics weren't kind to the Mary-Louise Parker vehicle towards the end of the series, Weeds did end up winning two Primetime Emmys for Outstanding Cinematography for a Half-Hour Series and Outstanding Sound Mixing for a Comedy or Drama Series (Half-Hour) And Animation. However, Weeds made its debut in 2005 and the landscape of television has vastly changed since its premiere. Does the Weeds pilot hold up over 15 years later?
Weeds is such an interesting narrative. It's a satirical stab at the wealthy and people in general. It is about the lengths people will go through just to maintain a certain image even if it's, not a moral code that society doesn't deem right. Who wouldn't want to live in the top 1% of the rich and fabulous? The choice to simply showcase Nancy as this somewhat supreme drug dealer out of the gate nicely dives us into the world of just what this show is about. When you think of drugs, you don't particularly think it would be located in a nice suburban neighborhood with million-dollar homes and uptight sugar-free housewives. It casts a shadow that anyone could be caught in this world no matter their monetary value. Clearly, Nancy was a traditional housewife, so it's a bit odd that she's suddenly one of the top dealers around her place as she's clearly a novice. In fact, how did she manage to get tangled up with Conrad, Heylia, and her crew? How was she so easily swayed into drug dealing? Of course, anyone with brain cells knows that a regular nine to five isn't going give you six figures yearly, but she just doesn't appear to be the type of woman who gets involved in such a seedy world.
Nevertheless, Weeds is still a fun and different take based on a culture that clashes with the lifestyle. If there's one nitpick (other than the one mentioned above) is the decision to not showcase her husband dying. It could be an interesting arc to showcase her life before and after his death, which is brimming with dark comedy potential. There's nothing wrong with the show opting to dive into the aftermath instantly, but blatant exposition regarding her husbands death was notable throughout the episode. We got the message the first time when the mothers discussed her husband's death, but it's mentioned several times and that's just too much. Other than that, Weeds is a pretty fun show that nicely bounces off the strength of it's characters and dialogue. Even the simple scene of Silas and Shane talking about the show Bear Hunt showcases the amazing chemistry this cast has. It makes the characters likeable and the outrageous over-the-top stuff never goes past unbelievable.
After all, wouldn't you break-in to your drug dealer's gay boyfriend's house to confront him about his B.S? It's a breezy 30-minutes that doesn't get too heavy, yet it's themes are still clear and present. Nancy is still struggling, but she's putting on a front so everyone else doesn't lose their minds. The pilot does a nice job of balancing humor, heart, and the more emotional stuff. Nancy is an easy protagonist to follow; She's very likeable and her take-no-prisoners attitude is a great balance to her kinder side. The juxtaposition between her and the stuck-up mothers on the show results in funny one-liners that nice plays off the stereotypes of these of women. Justin Chatwin's Josh stands out, though given the fact that he's not a recurring character, it's a shame that the plot won't go further than the pilot episode since he makes such a lasting impression. Weeds takes a subject and spins it on its head without going overly melodramatic or the typical route. It still feels fresh and different as there's not many shows like Weeds out right now. The pilot fits into 2022 like a glove perfectly. The episode is funny, yet the deep themes here help keep you truly engaging to the character's journey. This show would be easy to binge in the Netflix and streaming era. It's by no means perfect; however, it's definitely worth spending 30 minutes with Nancy as she navigates through business and family in an upscale world.