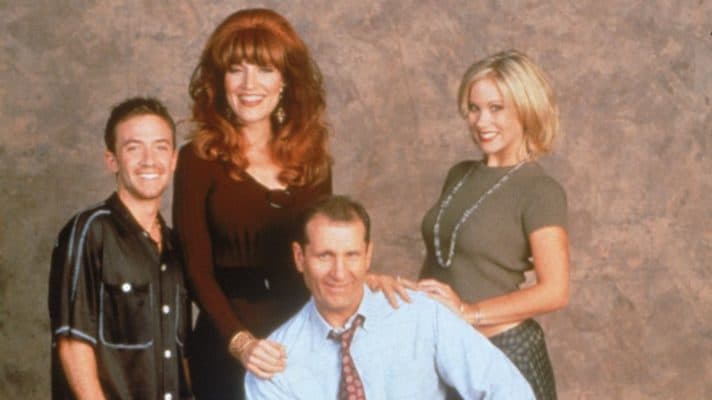 Married…With Children is the example of an imperfect and average family dominating the television landscape. Introducing a new era of sitcoms, the longest-lasting live-action show on Fox is about Al Bundy, a former high school football star who must deal with lows in life, which is he's stuck at a dead-end job as a women's shoe salesman with a lazy wife, and two kids who aren't exactly role model citizens. Married… With Children made its debut on April 5, 1987 and has seven Primetime Emmy nominations. Nearly 30 years later, the landscape of television has vastly changed, does the Married… With Children pilot still hold up?
The success of Married… With Children spawned an era of new types of sitcoms that helped birth shows like Roseanne, Arrested Development, Malcolm in the Middle, and Shameless. This slice-of-life depiction feels more relatable as its typical depiction of an average family who more often than not has to deal with problems that many of the audiences could identify with. That's part of the reason for Married… With Children's success. After all, who hasn't had to stop their child from trying to slice their sister's throat? With a plastic knife, of course. However, the show instantly dives into the characters. Bud is the troublemaker with a smart mouth who loves saying, "Die, commie bimbo", Kelly is the stereotypical blonde, though she's reading to indicate that she's a smart teen, it's the exact opposite. Then, we get to the main characters, Al and Peggy, the ex-footballer who's tired and just wants to grab a glass of juice. The latter is the lazy wife who has every excuse in the book other than work. It's a fun juxtaposition that plays on the tropes of the traditional marriage role. Al is the breadwinner of the family, though he's clearly struggling to make ends meet. And obviously, Peggy is anything but a traditional housewife.
The first minutes greatly pull you into their world and the jokes are solid, but there's nothing that's going to make you laugh hysterically. Arguably, the funniest scene is Al at work. Again, the show does a great job of showcasing something relatable, which is customer service at a regular nine to five job. Al's interactions with the mother and her son provided the pilot's best zingers, and the closing lining about the mother being a balloon really ended that portion well. His interaction with his friend, who's enjoying the single life nicely bounces off the characters nicely and provides another highlight for the 30-minute sitcom. The jokes in Married… With Children aren't bad. The great thing is that the sitcom stays away from popular culture references and easy gags like farting or burping, but outside of Al's workplace, nothing else really makes you die from laughter.
It's a simple show. There's nothing wrong with that as this is a sitcom not some multi-layered character-driven series, but the direction of the pilot was predictable and it was easy to see certain jokes coming a mile away. To the show's credit, Katey Sagal and Ed O'Neill have excellent chemistry with one another. Their dynamic is a bit tricky as it's clear that the couple is in love with one another, but their jobs are not to showcase them as a lovey dovey husband and wife, nor is it to highlight these are two people who are one the brink of divorce. Their back and forth banter is playful, yet never hurtful or mean spirited, and given some of the lines of dialogue, it could've easily veered into that direction if said under the wrong context. Sagal and O'Neil managed to never cross that line so when the couple does get lovey dovey in the end, it feels natural and realistic. Married… With Children feels like comfort food; It's not trashy television or anything, nor is trying to teach important family values. It's there to highlight a dysfunctional family and make you laugh. The jokes are more hit than miss and the episode keeps up a nice energy even if everything doesn't land as its supposed to. There's not much to say about Christina Applegate and David Faustino as they disappear for the entire episode following their brief appearance in the opening. Like Sagal and O'Neil, there dynamic is fun, though the former is a bit dry in her performance. Still, Married… With Children is able to hang with the modern sitcoms of today. It's not the funniest pilot you'll ever see, but the jokes mostly land and it isn't too hard to get invested into the core cast.