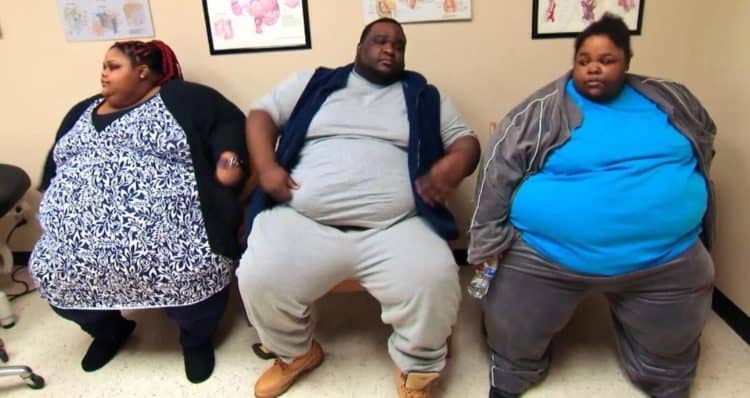 Reality TV has definitely hit all points of the spectrum throughout the years, and in some cases, the shows make you wonder what is actually in it for the individuals who appear on the shows themselves. The same is the case for that of the cast members who reveal all on TLC's "My 600 LB Life". Many have wondered what the cast members of that show receive for appearing and revealing everything that is vulnerable to the world, besides getting down the a healthy and manageable weight and lifestyle. In this article, we are going to give you what we know about the show, and the 'benefits' that they receive for putting their lives on the small screen. Let's dive right in.
1. The Flat Rate
One of the first big questions that comes to mind when looking at those that put their lives on TV is what is in it for them? For the individuals that premiere on 'My 600 LB Life', they start out by receiving a flat $1500 fee. This fee is referred to as the 'appearance fee', which is what they receive for premiering on their episode for the show. This is also, apparently, a one time fee; If their episode premieres on the channel frequently, or more than one time, they do not continue to receive any type of compensation for those extra episodes. Along with their appearance fee that they receive, it has also been revealed that the cast members on the series also receive a $2500 payout for any moving expenses that they may need to cover in order to move closer to Dr. Nowzaradan and his office, which is located in Houston, Texas. In all honesty, that moving fee does not cover much, depending on where exactly you are moving from, and the housing that you have to find as well.
2. What Is All Covered In The Contract?
Aside from what the cast members themselves make for airing their dirty laundry on TV, many also wonder what exactly is covered for these individuals (in terms of surgeries, medical expenses, the whole works). From what we know, it seems as though it is written in their individual contracts that each cast member gets their medical expenses that are provided through Dr. Nowzaradan covered for an entire year. This is because each episode takes one full year to film. So, every single doctor's office visit to get weighed and checked up on, and if they end up qualifying for the weight loss surgery, is completely covered for that year of filming. That being said, the only surgery that is not covered through Dr. Nowzaradan and the contract set up with the cast members is skin removal surgery. Typically, this surgery is considered to be a cosmetic surgery, and is not a life threatening situation or necessary surgery by any means. That is not to say that some of the cast members shouldn't need the elective skin removal surgery; It just means that it comes out of pocket for them if they so choose.
3. What About Reunion Episodes?
With all this information, you may be thinking, 'What about the "Where Are They Now" episodes? Do they get compensated for those? According to our sources, it seems that the cast members get the same flat appearance fee of around $1500 to appear on the reunion based episodes, as well as the same contractual obligation of receiving a year's worth of free medical expenses through Dr. Nowzaradan. However, the speculation in terms in the contracts of these reunions episodes isn't quite as well known as the introductory episodes for the series.
For those of us sitting on the couch with our popcorn, being on reality TV may seem really cool. Being able to show the world what we do in the day to day, and how we live our lives, while also getting compensated for it, sounds like the dream. Unfortunately for those members of 'My 600 LB Life', the compensation only reaches so far. Yes, it is wonderful to have all of those medical expenses covered in full, but what about life after surgery? It is a difficult process, and lifestyle, to uphold, and with little compensation for revealing so much, it doesn't seem like it really pans out for the best. It seems to be all in the eyes of the beholder, both on and off screen.
Tell us what's wrong with this post? How could we improve it? :)
Let us improve this post!