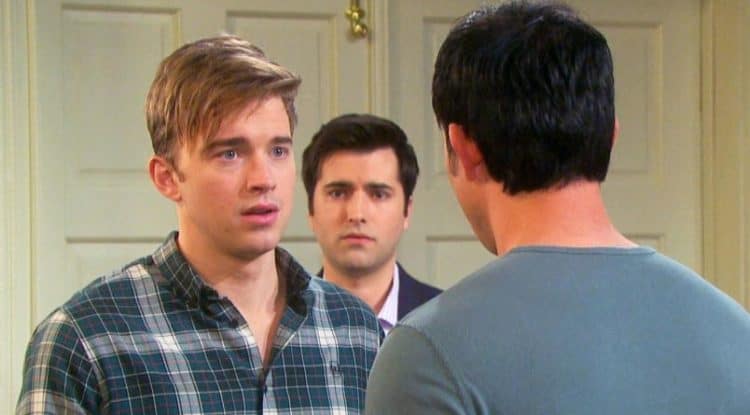 Days of Our Lives fans were not surprised to see Tripp lose his mind when he realized what Ciara had done. She's doing all the things to upset everyone in her life, and it's driving the people she loves crazier than she cares to admit. She's making choices that upset and affect everyone. We, as fans, might not understand why everyone is so upset that she's trying to help her friend Ben by giving him a place to live in his time of need, but we also have a chance to forget he is a serial killer with serious issues with his health. The people in Salem have not forgotten, as they have not been privy to his private moments and his clear changes. But that's beside the point. Tripp is not happy that she invited him to live in the loft, and we are fairly certain we just saw the beginning of the end of their relationship. It's not looking good at all for them.
But that's not all, either. We also saw that there was a serious lack of trust for Steve and Kayla. He overheard her talking about something upsetting. His friend told him to talk to his wife about it, but he decided he'd much rather have a chance to get to his situation and figure it out for himself. So, he hacked her cell phone and went through all her personal information. That's a breach of trust right there, but there is also no reason that they should be hiding things from one another in this time. So this is not something that we are condoning, but he did it. He really should have just spoken to her, but that's not our business, is it?
What's Happening on Days of Our Lives
The summer of #Cin continues this week on #DAYS! pic.twitter.com/cZPvapM7Jn

— Days of our Lives (@nbcdays) August 13, 2018
Fans just love Cin. We know them as Ciara and Ben, but what a perfect name for the pair of them. They are causing heat and controversy everywhere they go, and fans are loving every second of that. They want to see more of it, but we can't decide if it works or not. There is a lot that might go into what this couple has to offer, but they also have to consider the fact that they have more than their fair share of issues to contend with. We love them, but we also love that they are not really caring too much what anyone else thinks of the love and affection they feel for one another. it works.
What's Next on Days of Our Lives
This week on #DAYS: Jealousies flare in Salem as Gabi cozies up to Chad and Ben settles in at the loft. Watch Days of our Lives, weekdays on NBC. pic.twitter.com/FdWr6zX2A5

— Days of our Lives (@nbcdays) August 13, 2018
The week is going to end with a bang, and we cannot wait. There is a lot going on right now, and it's all amazing stuff. For one, we will see that there is going to be a moment when Kate decides she's had enough. We know her to be a relative baddie without much fear of anyone or what they are doing in their lives, but she's about to break some serious barriers. She's going to take her time to pull a gun on Ted and tell him to get his life together. She's not sitting around and waiting on him to make decisions in her life or make her life more complicated than it needs to be. She's ready for him to make good decisions, and she's not waiting around for him to do that without a little convincing.
We also know that Abigail is not a stupid woman. She's been thinking of the happy family scene she walked in on with her own husband, Gabi, and her daughter. She's not entirely thrilled to see her husband walked out on her to go live with Gabi and her family, and she's especially unhappy about the moment she walked in on. But she's also not stupid. We think this is when she's going to begin to put this together and figure things out. Who was there for her as her best friend forever when her life was falling apart and then jumped to take over her own life when she had a chance to do that with her husband? Right. And Abby is not stupid at all.
Stay tuned for more Days of Our Lives and be sure to check out TVOvermind daily for the latest Days of Our Lives spoilers, news, and updates.