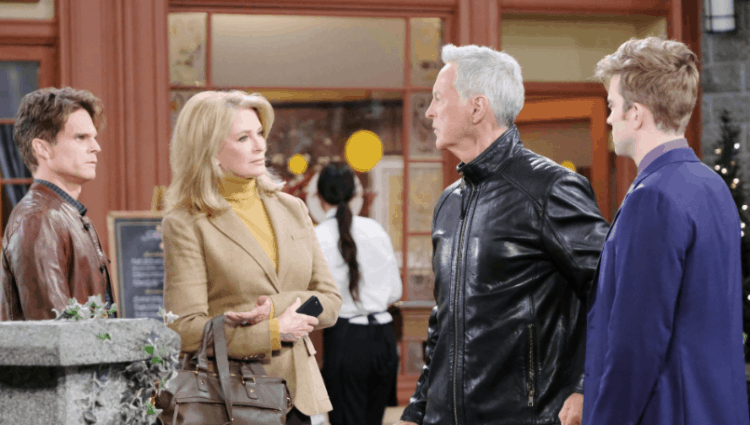 Days of Our Lives fans are always looking for something to make things seem more interesting, and this is one of those times that works well for us. We had an interesting week when everything was basically pushed a day to make up for the fact that the breaking news of the week interrupted the show. People did not want to miss anything, but the show as done for the day and there was nothing anyone could do. So what is going to make any sense now? We have to wait longer to get answers now, and that's all there is to it. Victor dropped a bomb, there's some baby daddy drama going down, a couple took their babies and left town, and things are just heating up for some. It's not something that we want to get into too much right now, but we suspect that we can get this situation to work out in the near future.
There was a lot of drama with Claire and Tripp after his discovery. There was a lot of drama with Ciara and Ben when he broke her heart in the interest of keeping her safe. From himself. He's not trusting of himself any longer, and we get it. His life is turmoil, and we get that he's afraid of what he might do, of what might happen in his life, and so much more. He's a man who has some issues he has to face, but this is not the kind of situation that will help him in the long run. He needs to spend some time focused on getting better rather than running from his own truth, but we don't know that this will happen for him. We do hope it does, but we don't have any real feelings about it otherwise. Let's just focus on what we know for now.
What's Happening on Days of Our Lives
.@camilabanus chats about the Chad and Abby exit. Then, @ChandlerMassey and @freddiemsmith discuss all things Will Horton and Sonny Kiriakis. Don't miss the latest episode of Inside Salem!https://t.co/bmBVq4hWnv pic.twitter.com/bkgIcCm79L

— Days of our Lives (@nbcdays) March 2, 2019
What's Next on Days of Our Lives
Stefan and Chloe share a passionate first kiss. But is Gabi jealous? Watch Days of our Lives, weekdays on NBC. pic.twitter.com/hDKLvtzTx2

— Days of our Lives (@nbcdays) March 1, 2019
Hope is not as into Ted as he is into her, but he's already ruined her relationship with Rafe. And then there is the fact that she is learning that he has a lot of secrets. She's learned a few already, but we hear she's going to learn something about his past that will get her into a situation she cannot handle at this point. She's so stressed and upset about the way her own life has been going lately that she's got to focus on things that are happening in her own life. She's got to focus on the fact that her daughter is crushed, she had so much to do with that, and her own granddaughter is a horrible girl who will do anything to anyone to get what she wants. This is not something we are very happy to hear, but it's something that works for her in some strange way. We are just sitting here beside ourselves about it.
But that's not all. We will also see that a lot is going on in the middle of other situations, too. We are going to find that Rex is going to be in the middle of a big upset when he finds someone who has a gun and appears to be following Chloe around. He won't like it, and that will not end well. But will he end up hurt, or will he be all right? Marlena is not all that happy to have learned that Leo might belong to her husband, and she's confronting him about that paternity test. Will she get the answers she is hoping to get, or will this turn into something a bit more?
Stay tuned for more Days of Our Lives and be sure to check out TVOvermind daily for the latest Days of Our Lives spoilers, news, and updates.