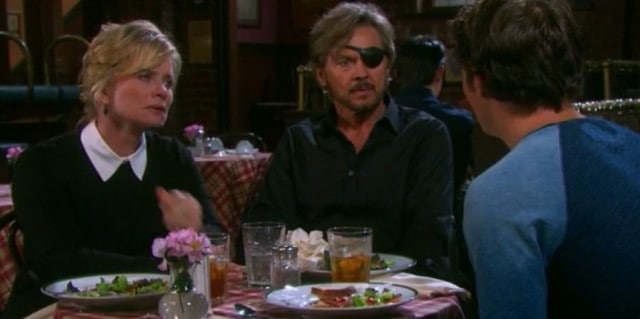 On Wednesday's all new Days of Our Lives, fans will get to see that an unexpected and odd relationship is heating right on up between Deimos and Kate. He's there to seek revenge on Victor, the brother that had him put in jail so many years ago. Deimos maintains that despite the fact that he did spend the night in bed with his brother's fiancé, whose wedding was the very next day, he did not push her off the cliff that took her life. He's convinced Victor did it himself, and he will stop at nothing to prove it. Where does Kate fit into all this? Does Deimos really have feelings for her? Is he using her to make his plan for revenge even sweeter? Or could Kate be using Deimos for her own personal gain? Is it wrong to suspect that either one or both of them have ulterior motives?
Additionally, we're going to see Summer open the door for Dario. Maggie is already suspicious of Summer and her activities, so what will happen if she finds out Dario is paying a visit? Will it alleviate her fears or only make her more suspicious that there is something going on with Summer she simply cannot ignore or handle on her own? In even bigger news, we know that Joey has confessed to Jade that he is the one who killed Ava and that his father did not. Knowing what happened and how she treated his family was too much for him to bear, and it's killing him on the inside. However, his father is not about to allow anyone to step in and say he did not do it, other than a jury.
John is still missing, and it's not looking good for him as he is in the presence of his father, who might be a little bit more than just crazy. He is not looking to let his son go so much as he is looking for a cure for a rare disease he lives with. He admitted he needs blood from John to become cured, and we don't know yet if Rafe will be able to save John before this all goes down and this strange man who calls himself Phantom in Chinese is actually taken down. Belle is working as hard as she can for Steve to fight his murder charge, but she cannot use anything that he wants her to use as far as evidence is concerned. She is only worried that what he wants to present will make it look like he wanted to kill her before she was killed, which is not good. What will happen? Is Rafe going to find John? Will Steve and Belle finally find a way to save him from prison?