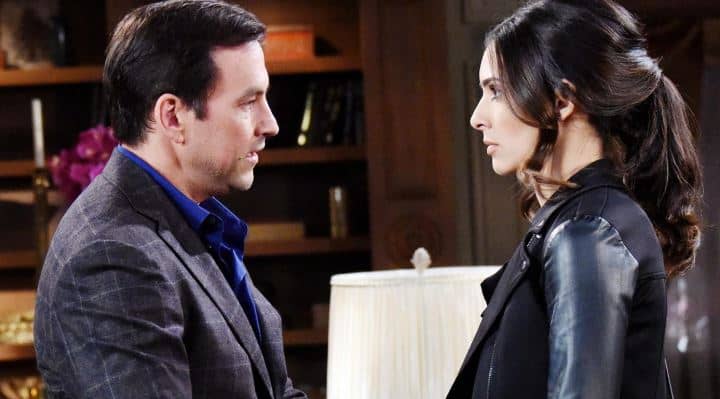 Days of Our Lives fans aren't sure what is happening right now with Chad and Abby. She's in labor, but he's not exactly helping her by getting her to see a doctor. He's got her held hostage, and that's not good news. However, we don't know what he wants from her. We all know at this point that there is a lot going on and we don't specifically know what to do about so many things. There is a good reason we can all believe that things will turn around for us, but we don't know. We don't even know if her baby will be all right, if she will get through this, or if there will be more issues they have to face. It's all a mess right now, but he's going to do anything he can to help her get through this so long as it doesn't mean he has to go away and get her actual medical help.
It's all a mess as we also saw Brady open his mouth about all that happened and what he is going through. He's suffering in a major way, and we don't really know what else to do or say for him when things like this don't work out. We know that there is a lot that might as he opens up about how he feels, but most people are too obsessed with their own feelings and their own situations, and they simply don't have time for this. That doesn't mean we cannot get through to anyone, but we do think that his opening up was going to turn around for him in some way — it just might not be the way that he was hoping it might work out for him. He's currently got a mess on his hands we aren't sure we can deal with.
What's Happening on Days of Our Lives
On the newest episode of the Days of our Lives podcast, #DAYS stars remember Peggy McCay. Listen to the full podcast now on https://t.co/5puWd28reS & the NBC app: https://t.co/G1aBQxE7TS pic.twitter.com/SESGBYK88K

— Days of our Lives (@nbcdays) November 12, 2018
There is nothing we love more than some behind the scenes information, and this is something that we just love the most. It's good stuff, and you need to listen to it. We'll keep sharing it with you when we can, and that's all we can offer you at this point. You're welcome.
What's Next on Days of Our Lives
For the rest of the year, #DAYS is kicking up the drama, heating up the romance and having a little too much fun. Catch all the action in Salem on Days of our Lives, weekdays on NBC.https://t.co/2BDVKtaemo

— Days of our Lives (@nbcdays) November 11, 2018
We all know that Eric is in a bad place, and he gets when people are in the same bad place. After all, he's currently in the process of grieving the woman that he loved more than any other in the entire world after she died in a tragic fire and accident, and that's all kinds of bad news for those who are looking for him to find happiness. But right now, he feels for Sarah. She came home to find her happiness in her engagement to Rex, only to find out that there is something that she didn't know, which was that there was something that we didn't know would be possible. He had a baby with another woman, which means that he cheated. And it wasn't just any other woman, either. It was his ex. And that's the worst possible news for someone like her.
Now she's going to deal with this in her own way, which is to go insanely crazy and try to ruin his life and the life of the woman who got pregnant by her fiancé. And Eric is going to try and stop her. There is nothing that can be done for them otherwise, but he will make it his goal to try and help her as she continues to make a scene at the pub. And then there is Lucas, who will make his final goodbye in the meantime. He's out, and he's not coming back. Bryan Dattilo is officially leaving the soap, and this is not happy news for Lucas fans.
Stay tuned for more Days of Our Lives and be sure to check out TVOvermind daily for the latest Days of Our Lives spoilers, news, and updates.