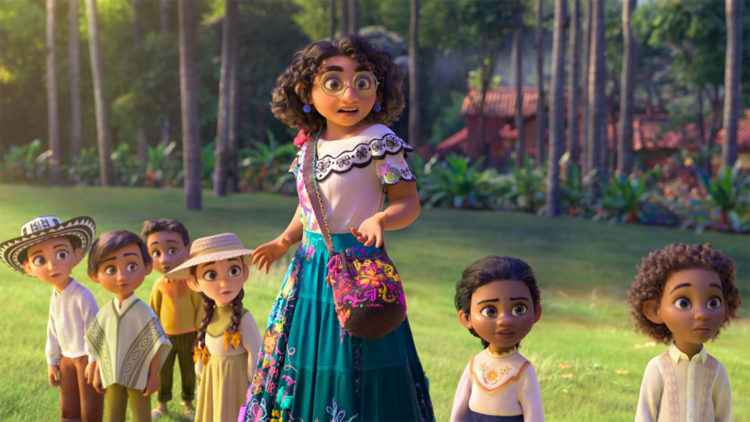 Everyone loves a good Disney movie. Thank goodness, we are started to get back to the theaters to see feel-good Disney movies like the upcoming Encanto. The trailer has only been out for about a week, but people are taking strong notice of this new flick. It's got a beautiful design that contrasts bright colors with relaxed naturals. Disney has obviously learned a thing or 2 from Pixar with this level of animation. There is also a lot of homage being paid to Gabriel Garcia Marquez with things like the vibrance contrasts and yellow butterflies, a symbol that became synonymous with the Colombian author. It also helps with the fact that Marquez is the originator of magical realism, which is what the movie is based in. Instead of me just rambling about how good the trailer is, watch it for yourself.
What's the Story?
In recent years, there has been a huge uptick in stories for underrepresented populations. Disney has been on this kick too, with recent hits like Moana, Raya and the Last Dragon, and Black Panther. Which has been a recent movement in the film industry that has been for the better and a long time coming. After dabbling in a bit of Latin American culture with Coco, Disney goes to Colombia with the latest film they have announced: Encanto. Encanto is drawing on some Colombian folklore and really draws on one of the literary greats from the country, Gabriel Garcia Marquez. He is the author that really started the magical realism movement that inspired many authors all over the world to this day. Magical realism, still one of the most popular genres today, is defined by magical things set in real-life settings.
The story of Disney's Encanto (the whole reason you're reading this) follows the Madrigals, a magical family living in the mountains of Colombia. The whole family has some sort of magical ability. We see a woman with super-strength, a boy that can communicate with animals, a girl that can make flowers bloom, and a person that can shapeshift to whoever it wants. Then there is Maribel (Stephanie Beatriz), the main character in the story. She has no powers, the only one in Madrigal with this issue.
She also is the only one in the trailer that is wearing glasses, which may be special somehow also. I could see it being a way to differentiate and also to show that she has a special view that nobody else in Madrigal has. Ultimately, the story, according to Disney's website, is about how Maribel finds out the magic surrounding the Encanto is in danger and she may be the only one who can save it.
Who's In It?
I mentioned that Disney has been trying to focus on diverse stories of underrepresented communities, and part of this support is hiring diverse actors. Even when those actors aren't actually on screen, their voices still star. They commit to getting voices local to the places they are representing. Stephanie Beatriz is the lead, voicing Maribel. Disney has also stated that Maria Cecilia Botero, Wilmer Valderrama, Diane Guerrero, Mauro Castillo, Angie Cepeda, Jessica Darrow, Rhenzy Feliz, and Carolina Gaitan will be voice actors. The directors are Byron Howard and Jared Bush, the duo behind Zootopia, and Charise Castro Smith, who is making her directorial debut. She has some credits writing on films such as Estrella Cruz and El Huracan. One of the biggest names attached to the title is Lin Manuel Miranda, who wrote the music for this film. He is best known for his writing the music for Moana and writing/producing/acting in Hamilton the musical phenomenon that was nominated for 16 Tony awards, won 11 and won the 2016 Pulitzer Prize for Drama.
When Can I See It?
I feel like all of this has convinced you to see the movie, but you have to learn when it will be coming out to do that. The film is slated to come out on November 24, 2021. The first film to be coming out with a straight theater release since the pandemic hit the world and stopped everything. Since things have been opening back up, some movies have been doing dual openings where they go to theaters and Disney+ at the same time. Disney's Encanto will release directly to theaters, but no date has been announced, or even rumored, for when it will come to Disney+. You can guess that it will inevitably end up there, but until then, the theater is the only place to catch the movie.Zootopia