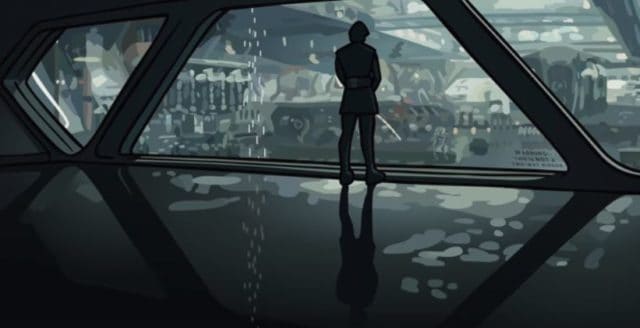 Let's hold out some hope that this spoof of The Last Jedi isn't a sign of things to come. Otherwise go ahead and get a good laugh in since if you do tend to take it as it is the spoof is pretty funny. The image of a smaller Imperial walker getting hauled back by the bigger ones is worth a snort, and so is the skewering of an unfortunate Porg. I almost get the feeling that some Star Wars fans are already wishing that this would have made it into the movie. We haven't even seen them yet but Porgs look like they might be the next Ewoks of this trilogy, meaning that they'll start out as cute and cuddly but become little more than pests as the movie goes on.
Also, Luke getting all crusty with Rey seems like it's a possibility but this is a stretch thankfully since he's just being an irritated old man in this one. He's had his fill of the Jedi and the universe at large it seems and just wants to be left alone in the real trailers. In this one he's like the disapproving teacher that we all had in high school that never thinks anything is good enough and keeps pushing you despite the progress you make.
Honestly, it's like they took the worst part of Luke and just let it flow in this clip, and it's amazingly hilarious since it paints him as such a jerk. If not for the trailers you might think this is how Luke is supposed to act in the movie, at least a little. In the real movie though he's bound to be a bit of a curmudgeon just because he doesn't want to make any more mistakes. After all he trained his nephew Ben and was betrayed by the Knights of Ren, who we still don't know a lot about from the movie or the book.
Plus, it seems like Rey's power will be innate and far stronger than Luke, who was forged by hardships from the moment he found out about his father until the moment that he became a Jedi. Rey hasn't had that opportunity yet, she had to find out without guidance what she could do and then seek out her teacher. Whatever power she possesses is enough to scare a Jedi Master, and that's not an easy task. Luke sees in her a thing of danger as well as hope, but he isn't willing to bank everything on that hope it seems, not yet.
The scene in which Leia decides to take the shot while Kylo is having his meltdown is hilarious because that alone would solve so many problems. Without Kylo either the Knights of Ren would have to show themselves or Snoke would have to take matters into his own hands and show himself finally and things could finally get underway.
One thing is certain though in the spoof and in the real trailer, the probability of the Alliance losing someone, or something, in this next film is very high.