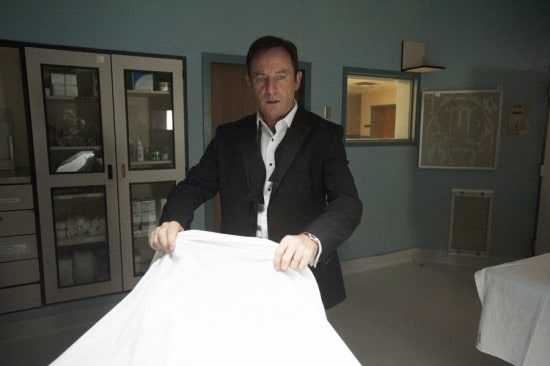 Peter takes on a false identity in order to made headway in Emma's murder investigation, and others around the world get closer to rebuilding the Temple Mound on this week's Dig.
Lynn is getting frustrated with Peter since Yussef Khalid is in the wind after stealing the last stone last week. Never giving up on the investigation, Peter accidentally ends up pretending to be Emma's father in order to figure out what was going on with her life. Slipping into the role is easier than you would think, since Emma bared such a striking resemblance to his own daughter. Peter is greatly affected after seeing video footage of a happy Emma and has flashbacks to his own daughter and her death. He's so sentimental he even offers to help Cohen's son with his homework so Cohen doesn't have to keep dipping into his pension for tutors.
During a drug session with some of Emma's friends, Peter learns that Emma had a break-up shortly before her death. Cohen also makes headway on his end, but it's not good news since the conspirators have stolen the breastplate. Tackling one problem at a time, Cohen and Peter go to Tel Aviv to talk to Emma's transgender friend Julie in search of answers about the boyfriend. Julie reveals that Emma was sleeping with her boss, Professor Hargrove, but he firmly denies having anything to do with her death.
Fictional drama meets reality when Lynn's car is attacked during a protest, and the reality of life in the Middle East for an American is put at the forefront. The first person to visit her is none other than the backstabbing US ambassador, who is scrambling to find Khalid, who is off recovering from Peter's gunshot wound. At least Lynn won't have to worry about Khalid while she's recovering, since he was forced to commit suicide and be the sacrificial lamb, so to speak. The ambassador is Lynn's one and only visitor, as Peter can't bear to be in the hospital after he is flooded with memories of his daughter's death, and Lynn's driver dies in the hospital. Lynn breaks off her, whatever it is, with Peter. Just in time too, because Peter is on a roll with the case's clues. While taking a dip in the pool he swam in with Emma, he notices a symbol on the cave ceiling that matches one in Emma's journal, and it also matches the layout of the compound in Arizona.
Up in Croatia, Avram accidentally throws caution to the wind in a spontaneous kiss with the girl whose home he is staying. As he's leaving her home, he has no idea he is being taken for the next leg of his journey by someone other than his intended driver.
In the meantime Debbie is still locked up like an animal after refusing to apologize for trying to break free of the cult. Let's just call it what it is, an evil, evil cult with slightly more sophisticated outside friends. Luckily, it's big brother to the rescue, and while sneaking into the compound to free Debbie was easy enough, sneaking out is a lot harder. So the new plan is to escape and kidnap Josh in the process, which only ensures that the entire compound comes after them.
One death, one kidnapping, and an ambush later, how much more complicated can this conspiracy get?
[Photo via USA Network]