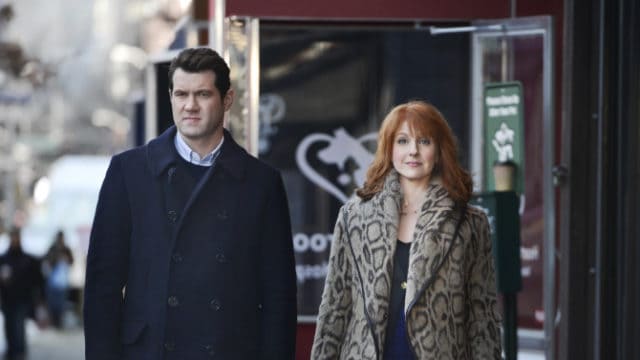 This news is going to be "difficult" for the fans of the show. Hulu has decided to cancel Difficult People after three seasons. The streaming service opted not to renew for a fourth season. All 28 produced episodes of the show are still currently streaming.
Created and executive produced by Julie Klausner and executive produced by Amy Poehler, Difficult People centers on Julie and Billy, two 30-something aspiring comics, living and working in New York City. While their friends and acquaintances move on to find success and love, they continue to struggle with careers and relationships, getting more bitter by the day. During the third season, Julie and Billy remain each other's best friends while still their own worst enemies. Julie embarks on a season long quest for happiness, after she learns if she tries to up her anti-depressants anymore her blood will be a Slurpee, trying in the process everything from meditation to ayahuasca. Meanwhile, Billy begins to sour on New York, just as he begins to fall for his first real boyfriend. Marilyn lands a book deal, and Arthur is forced to commute to the Burt Reynolds Dinner Theatre in Jupiter Florida, where PBS has moved all of its productions.
Billy Eichner, who plays Billy Epstein, tweeted his sadness about the show's cancellation:
Yes it's true. DIFFICULT PEOPLE has come to an end. Thanks to many people but above all my friend, @julieklausner. A singular comedic voice & the funniest person I know. I cannot WAIT to see what Julie creates next. Thanks to all of you Difficult People out there who watched.❤️

— billy eichner (@billyeichner) November 15, 2017
Andrea Martin, who plays Julie's mom Marilyn, also tweeted her sadness regarding the cancellation:
So sad that DP will no longer be a showcase for @julieklausner, @billyeichner, and the rest of the amazing cast. I will miss playing Marilyn, being Julie's mom, and bringing joy to all that watched. What a special show with a unique voice. So proud to have been part of it.

— Andrea Martin (@iamandreamartin) November 15, 2017
Difficult People played an important role in the evolution of Hulu as a home of original shows. It was the first of a new crop of high-end scripted series to debut on the streaming service, followed by Casual, which was recently renewed for a fourth and final season.
The show stars Klausner, Eichner, Martin, James Urbaniak, Cole Escola, and Shakina Nayfack. Klausner and Poehler executive produce alongside 3 Arts' Dave Becky, Tony Hernandez, Brooke Posch, Jeffrey Walker and showrunner Scott King. The series hails from Universal Cable Productions.