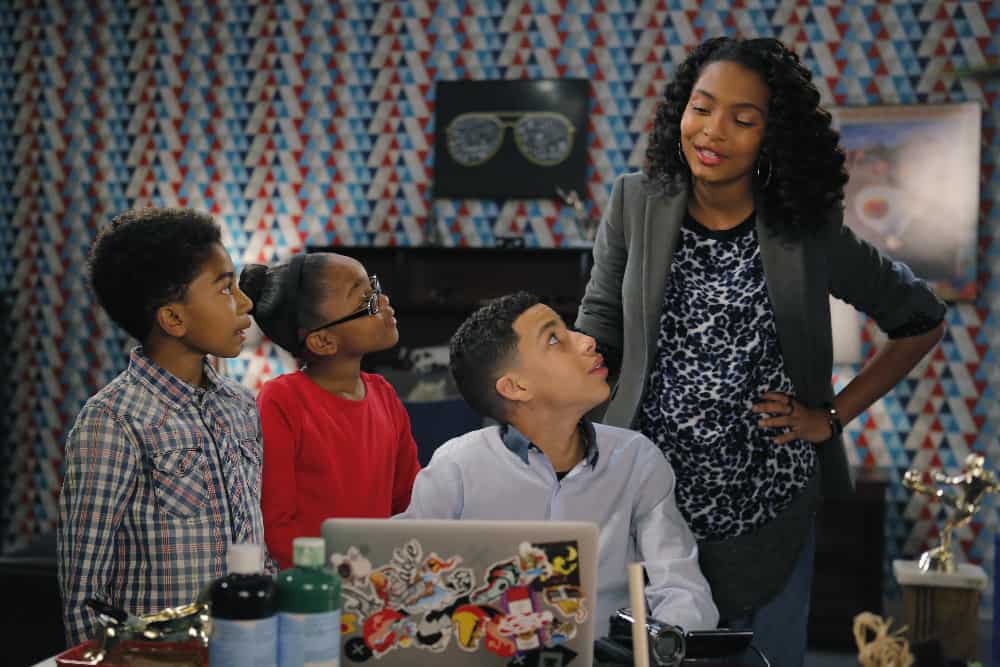 With the final season of Black-ish set to air in 2022, there has never been a better time to recap the savageness of Diane (Marsai Martin), who was unarguably the queen of shade. With the trait she most likely inherited from her grandmother, Ruby, a moment with Diane, especially when she was on her bad day, ended with complete annihilation. If she wasn't scaring the hell out of her parents or Charlie (Deon Cole), she was unashamedly going in on her siblings or a random parent at the park. While there were some sweet and cute Diane moments, particularly those she shared with her twin, Jack (Miles Brown), every other time was savage time, and these were the most savage of them all:
1. The Time She Was Eyeing Zoey's Boyfriend
Small as she was, Diane had a lot of guts in her, enough to try and steal her own sister's love interest. Aaron ( Trevor Jackson) happened to be in town for a music festival and Diane and her equally Godzilla grandmother Ruby (Jenifer Lewis) had their eyes set on him. Diane gathered enough courage to confront both Zoey (Yara Shahidi) and Aaron in the kitchen, telling him, "Enough playing both sides. I need you to choose. Me or this." A cornered Aaron did not want the sisters fighting, especially over a guy. Diane was hell-bent on asking him to make the choice. She called herself 'a ten' and said they had something 'electric', much to the surprise of Zoey, who felt ambushed. Being the two grown-ish people in the room, both of them played it cool, without hurting Diane's feelings. " You can have him," Zoey said. She went on to point out Aaron's flaws, some of which included being an awful listener who spent a lot of time getting ready. If Diane was up to the task, she could possibly change him. Not one to mince her words, Diane was over it in a heartbeat. " Sorry Aaron, I'm not looking for a project. Boy, Bye!" she said before walking away immediately.
2. The Time She Snapped On Rainbow At School
With parents, we all have those moments when they take too long chatting mid-errands while they keep us waiting. If you happen to be Diane, those moments come with giving your parent a reality check. It may even involve calling out their first name. One would wonder how she got away with that for so long. Rainbow picked up Diane and Jack ( Miles Brown) from school one time, and was surprised that she was wearing pants as opposed to her usual uniform. A grumpy Diane was quick to clap back when she was asked why she was in pants. " What are you, a cop?" She asked her mom. Luckily for Rainbow ( Tracee Ellis Ross), Diane's teacher was in tow, and let her know that her daughter just got her first period. Even though the teacher was kind to Diane and had given her a set of backup pants, she zeroed in on her teacher's weaknesses. As the teacher was telling Rainbow all about it, wondering whether the bangs she wore made her look desperate, Diane was growing impatient. In a moment of rage, she blew the car horn so loud, it scared both her mom and her teacher. " Ain't nobody got time for you to make a friend, Rainbow!" Diane shouted.
3. The Time She And Her Siblings Were Starving Artists
Nothing was fit enough to bring out the truthful side of Bow other than finding her children all messed up. Thanks to Sha, Dre's ( Anthony Anderson) cousin, Diane and her siblings wanted to get as far away as was possible from 'the rat race', or hamster wheel as they called it. The idea of working a 9-5 job was boring, and being the next Mark Zuckerberg seemed like a solid thing to aspire to. Rainbow walked in to find the house in a complete mess, with each of her children looking disheveled and idling around. None of them had taken a shower in recent days. " We're off the hamster wheel, man…What's the point of playing society's game when he's clearly gonna hit it big by sleeping all day? " Diane asked, to which Bow gave her a quick check on artist life: " None of you are talented enough to be starving artists…and you know how this is gonna play out for you? You're gonna fall behind at school, you're gonna get stupid, you're gonna get skin infections because you don't shower, and then, when you turn eighteen and your dad and I kick you out, you're just gonna roam the streets. And you're gonna do really bad things for small amounts of money and chicken nuggets. And then you're gonna die." That was enough to scare all the children, who decided to hop into the shower, except Diane who said she'd sit it out one more day.
4. The Time She Ended Her Friendship With Sophie
Despite being so self-centered and aloof, Diane finally made a friend in Sophie ( Cleo Fraser). The pair became attached at the hip, barely doing anything without the other. She needed Sophie's consultation on what to wear and spent a lot of time with her during breaks. If they weren't getting scared together on movie nights, they were taking selfies in class. According to Dre, he had never seen Diane that happy. All of a sudden, Bow learned that things had fallen apart between the two friends. Asked whether they would get a present for Sophie's birthday party, Diane said, " I'm not going to the party, and Sophie's dead to me." It turned out that Sophie thought Diane was 'too much' and didn't want to be friends with her anymore. Bow came in and tried to salvage the situation, leading Diane to get a 'pity invite' she did not appreciate. In true Diane fashion, however, she ended the relationship on her own terms by ruining Sophie's birthday party. When her mom, who had projected rejection from her own childhood friendship onto Diane, asked whether Diane could be best friends with her, the ever-so-savage Diane told her, " I'll get back to you."
Tell us what's wrong with this post? How could we improve it? :)
Let us improve this post!