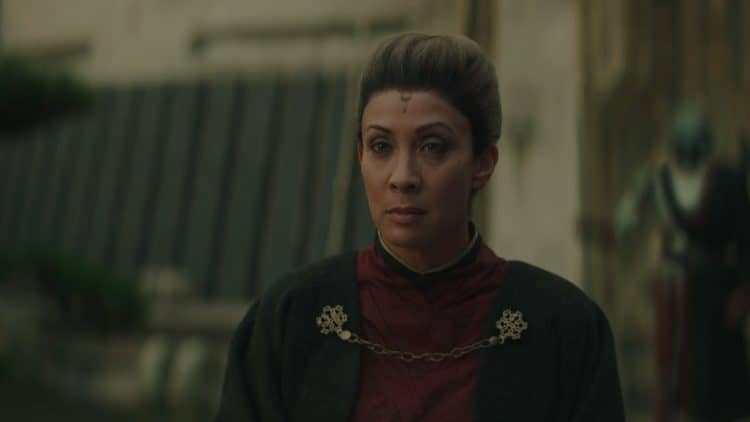 Getting the opportunity to be part of a huge franchise like Star Wars is something that many actors can only dream of. For Diana Lee Inosanto, it's a dream that has officially come true. Diana has joined the cast of the TV series The Mandalorian for the show's second season, and viewers are excited to have her on board. Although she hasn't had a ton of on screen roles, Diana has been working in the entertainment industry in some capacity for more than 30 years. Throughout her career, she has shown that she can do a little bit of everything and her multitude of skills have gotten her to where she is today. On top of her acting skills, she is also a top-notch martial artist. Keep reading for 10 things you didn't know about Diana Lee Inosanto.
1. She Comes From A Diverse Background
Diana was born and raised in the Los Angeles area. Her father, world renowned martial artist, Dan Inosanto, is Filipino. Diana's background also includes Irish, Chinese, Spanish, Italian, and French ancestry. She is very proud of all of the cultures that make up who she is.
2. Bruce Lee Was Her Godfather
Diana's father, Dan, was very good friends with the legendary martial artist, Bruce Lee and Dan was trained in Lee's style of martial arts. The two were so close that Dan asked Bruce to be Diana's god father. Additionally, the Lee in Diana's name is in honor of Bruce. Sadly, Diana was just 7-years-old when Bruce Lee passed away in 1973.
3. She's A Private Person
Even though she has been in the industry for the better part of five decades, Diana has never gotten caught up in the hype of being in the spotlight. She has always been a relatively private person and she doesn't like to share many personal details about her life. With all of the drama that can occur in the entertainment industry, it's easy to see why she prefers to stay a little more low key.
4. She's A Wife And Mother
Diana is proud of all of the things she's accomplished in her career, but nothing is more important to her than family. She is a devoted wife and a proud mother. Her husband, Ron Balicki, is a martial artist and the two have worked together many times throughout the years. The couple has one child together and Diana has another son from a previous relationship who Ron has raised like his own.
5. She's An Author
The entertainment industry isn't the only place where Diana has found success in her professional life. In 2020, she released her very first book, The Curious Mind of Sebastian. The book is a fictional children's book that is based on Diana's experiences having a son who has autism.
6. She Enjoys Interacting With Fans On Social Media
Diana has been getting a lot of attention on social media since joining the cast of The Mandalorian, and she isn't taking it for granted. Although her Instagram account is private, she is very active on Twitter and she loves using the platform to interact and connect with her fans.
7. She's A Stuntwoman
You may not have seen Diana's face on your screen too many times before, but that doesn't mean you haven't seen her work. Thanks to her martial arts training, Diana has had a successful career as a stunt woman for many years. She has appeared in several well-known TV shows including Buffy the Vampire Slayer, Star Trek: Enterprise, and Bones.
8. She's Passionate About Raising Awareness
There are many causes that are important to Diana and she has used her platform to raise awareness to them. She participated in a PSA for a campaign called Wash-the-Hate which was aimed at bringing awareness to the growing number of racially motivated incidents targeted at the Asian community.
9. She's A Director And Producer
Diana has a knack for lighting up the screen any time she gets in front of the camera, but she also has some skills behind the scenes. She made her directorial debut in 2008 with the film The Sensei. She has also produced several other projects including the 2016 film, The Last Tour.
10. She Studied Dance As A Child
Diana was blessed to come from a home where she was allowed to explore different areas of herself and try new things. From her father, she developed an interest martial arts, and her mother helped her explore her artistic side. Diana began studying dance at an early age thanks to the guidance of her mother. Her love for dance eventually turned into a love for theater.