As always, check out Michael Mahoney's review of the episode here.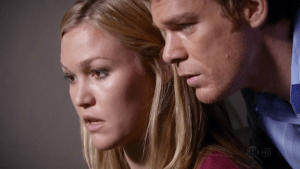 "Hop a Freighter" is the penultimate episode of the season, which means that the end is near. Is time running out for Dexter? Lumen? Jordan Chase? Stan Liddy? Let's recap what happened.
Deb and Quinn pay a visit to Jordan Chase to let him know they went to Alex Tilden's house after his call and that it seems Tilden has disappeared. Deb points out that all three men who have disappeared have him in common and says she's onto him, and he flips it around and accuses her of being obsessed with him.
Dexter and Lumen know just where Chase is – his office – but know they can't get him there. He's increased his security staff and it will be difficult for them to get him alone and vulnerable. Lumen wants to be used as bait, but Dexter says it's too dangerous. Lumen asks Dexter if his sister Deb has ever suspected anything, but he says no. Just then he notices that the baby monitor is picking up the signal from a camera in the room and they're being watched. He quietly tells Lumen and then goes outside, knowing someone has to be close by.
Stan Liddy and Quinn have a conversation in the station parking lot. Liddy asks for his help on "a bust" that he says is big enough to make everyone notice, but Quinn refuses. Liddy says he's going to call anyway and that Quinn better come running when he does.
Dexter is able to find the camera that was being picked up by the monitor, and he notices that the sticker on it says that it belongs to Miami Metro. He had thought the cameras were Chase's doing, but now he realizes that he was wrong. Dexter also realizes that no one has seen the tapes because they haven't been arrested yet.
Dexter goes to work and plans to find out who rented the camera from the station. He first sits in on a meeting where Deb discusses how everything keeps leading back to Jordan Chase. Masuka enters and says that the footprint outside Tilden's house had a twin in front of the house next door, and upon entering, he noticed that the dining room smelled of bleach and was spotless. Deb tells LaGuerta about her vigilante theory; explaining that there are 13 DVDs and only 12 victims. Once the meeting is over, Dexter is able to find out that Quinn is the one who rented camera and recording equipment, and also that he took it out for a case from 1982., meaning that something else is up. He and Lumen then investigate Quinn's apartment and find the photos of them dumping Cole into the marina.
Meanwhile, Quinn and Deb visit Dan the Dentist's office to speak with his wife. They inform her that he's been linked to the series of rapes and murders, and run the list of names. She recognizes the name Jordan Chase and tells them that Chase's name used to be Eugene Greer.