Michael Mahoney liked "Circle Us" better than the previous episode of Dexter, but still left him a little "meh." Check out his review here.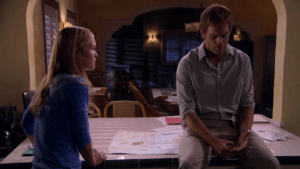 The last episode ended with Dexter deciding to help Lumen. This episode opens with Lumen telling him about the time she was held by Boyd Fowler and the other men that he was working with. This is their first step to catching the unknown men who remain at large. While they're having that conversation, a group of men take Fowler's barrels – the ones that contain the dead women – out of the water and load them into the back of a pickup truck. The driver of the truck gets into a bad accident by turning left at an intersection without looking to see the oncoming car. Things are about to get very difficult for Dexter thanks to this collision.
Deb and the rest of the team get the call to check out the scene of the crash. The barrels spilled out of the back of the pickup truck, exposing their contents: the women. Five of them. Dexter arrives and can't believe what he sees. The driver took off immediately after the accident, so they have very little to go on since the man who hit him was drunk and unable to give any details about him. Liddy calls Quinn to inform him that he's been following Dexter and knows that he has a girl staying at his old house and even took down the for sale sign. Of course, he means Lumen. Things are closing in on Dexter from all sides. Just then, Deb finds out who the truck is registered to: Jordan Chase. Yes, that's the man whose motivational tapes Boyd Fowler was always listening to.
Quinn tries to get in touch with Jordan Chase, but has no luck. LaGuerta calls him and Deb into her office to let them know that they'd need to shift their focus back to the Fuentes brothers case. They believed the case to be dead, but with their new witness, they'll be going back undercover at the club because they know the brothers will be there. Quinn couldn't find Chase, but Chase found them. He walks into the station with Cole Harmen, his head of security, and they sit down to talk with LaGuerta and Batista. Chase explains that Cole called him while hew as out of town to let him know their truck had been stolen, and that it was the truck they'd all seen on the news; the truck with bodies in barrels in the back. Cole claims that someone grabbed the spare keys and stole the truck, and Chase offers his complete cooperation to help facilitate a resolution in the case. The only fingerprints found in the car match those of Cole, so he becomes to focus of their investigation. This is not good news for Dexter.
He goes to visit Lumen, who is drinking cup after cup of coffee to stay awake out of fear that someone will come get her in her sleep. Dexter shows her photos of the two men who came to the station earlier that day; she recognizes Cole but does not recognize Chase. "It's only a matter of time before they're all in the hands of the police," he says. He tells her she can walk away from this now and move on with her life, but she says that she wants to take care of it herself. His plan is to give the police another suspect so that they can go after Cole themselves. That other suspect? Boyd Fowler. They return to his house to clean up a bit, and then Dexter takes his wallet to plant in the truck.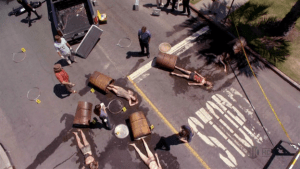 The next day, Masuka comes into the station with that wallet. Boyd Fowler, you're officially on Miami Metro's radar. The team goes to Fowler's house to look around. He's now become their primary focus. When Chase and Cole are asked about Fowler, Cole says that he knew him because he was an obsessive stalker of Chase's. Fowler had been removed from their offices a few times. As the two men leave the station, Chase tells Cole he something by steering the police attention to Fowler. "It wasn't me," he replies. Chase looks very unsettled by this revelation.
Liddy knocks on Quinn's door and lets him know that if he wants to find out information about the girl (Lumen) Dexter has at his house, it's going to cost him. Quinn is unsure about it, and Liddy accuses him of backing off Dexter because of his relationship with Deb and is about to leave when Quinn offers him another $500, and Liddy agrees.
As the undercover operation at the club gets underway, the Fuentes brothers are already there. One of the brothers invites the police informant over to him, and LaGuerta tells her to go sit with them and be nice. He puts his hand on her leg and realizes she has a gun. The other brother immediately shoots and kills her. Deb has another standoff with one of the brothers who grabs another woman as a hostage. She wastes no time in putting a bullet between his eyes. All in all, three are killed (one Fuentes brother, their informant and one innocent bystander) and three other bystanders are wounded.
Dexter and Lumen go to Cole's house late that night. He goes in alone and tells Lumen to stay in the car to be the lookout. As he's looking around inside, he finds a picture of Cole, Boyd and Dan the dentist as teenagers. While he's looking at it, he's attacked by an unknown man from behind. Luckily, Lumen "had a feeling" and went in to check it out and is able to save him. They leave immediately before the man can see their faces.
'Partners come to us in various ways, bound together for many different reasons but for any partnership to work you must not only accept this person into your life, but accept her for who she is,' thinks Dexter as he returns home to Harrison and the nanny. This quote (and the following one) applies to him in two ways; he has Lumen as his partner, but also has the nanny as his partner. He has a good team on his side, though he's not completely honest with either of the women.
He takes Harrison to meet Lumen. 'Sometimes partners find us and as much as we try to push them away they work their way into our lives regardless until we finally realize how much we need them.'