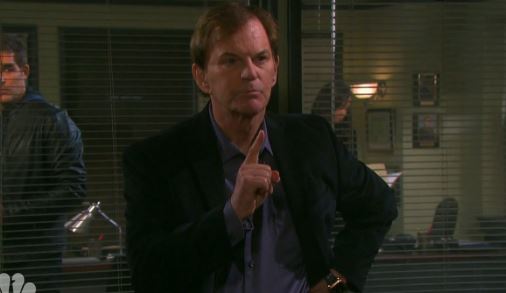 On Tuesday's episode of Days of Our Lives, we learn more than we thought, and it's information that changes much of what fans thought they knew. In spoilers for this episode, we learned that Victor would discuss his past and his history with his brother, Deimos. After already seeing these two as they greeted one another after many years of being apart, we learn that they have a history that most brothers do not share. Victor finally opened up to Maggie about what happened between him and Deimos so many years ago, and it's tragic. Deimos had an affair with Victor's fiancé the night before they were set to wed. On their wedding day, Helena — the fiancé — was dead at the bottom of a cliff and Deimos has been in jail for that crime ever since. Most siblings cannot imagine a relationship like this one, but it's desperate. Victor finally opens up about what it is that started their feud, and it all explained why he chose to send Deimos to prison. It also explains why Deimos wants to seek revenge on Victor. Tuesday also shows that Philip poses a threat after his secret meeting with Victor's brother. Whatever we might have imagined in this situation, no one ever saw Deimos and Philip meeting to see what it is that they can come up with, and to partner together to cause Victor's downfall. Of course, Victor has hurt many people and it's unlikely that he will stop anytime soon. Is it time for someone to put an end to that? And will that person be Deimos?
That's not all that Philip is up to, either. We saw him Tuesday with Deimos, but we also saw as he continues to pursue a relationship with Belle. However, we also saw Claire take matters into her own hands and call Shawn. She told him that there is a problem and that Belle is in trouble. Claire is desperate for Shawn to come home and distract Belle so that these two might get back together and Belle will end things with Philip. However, judging from the two of them together on Tuesday, that won't be an easy task, especially since they just arrived in Las Vegas and we see them kiss for the first time.
Brady is still having crazy dreams, and he's been caught right in the middle of one this time around. In fact, he seems to feel as if he is having Daniel's feelings in his own body since the heart transplant, but he is assured by a friend that this is not so.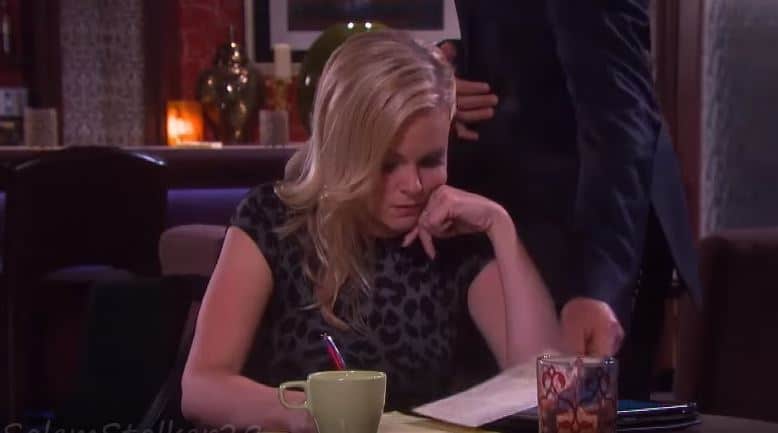 A few episodes ago, Ava hit Kayla over the head with a candlestick when she showed up in Ava's hotel room. Kayla's mistake was not just going straight to the airport. Not only is she now unconscious in the hotel room of a dying woman — a dying woman she hates — she is also missing her flight to Washington D.C. If ever there was a flight not to miss, it's this one. She has to be there to testify about the entire heart transplant issue, and she's clearly not going to make it. Things turned even worse for Kayla on Tuesday when Steve confronted Ava about her relationship with Joey and she claimed that the two of them were only working together to ensure that Kayla and Steve got back together. She didn't mention one word about the fact that Joey is clearly in love with her and that she has no intention of pursuing a relationship. Fans also noticed she left a tiny bit of a detail out of her conversation with Steve, which is that Kayla is not in DC but knocked out and being held captive in Ava's room at the hotel. In fact, she actually texts both Joey and Steve using Kayla's cell phone to tell them she will be out of touch for a while.
Now Steve is in a precarious situation. He's already on the fence about helping Ava find the child she swears is also his, and now it looks as if he has no choice in the matter since Ava is playing him with everything that she has in her. She showed us on Tuesday what a good liar she is when she feigned interest in making sure Steve and Kayla are happy together, even though she's holding Kayla hostage and fans are almost positive that Ava has no intention on allowing anyone else to be with Steve if she cannot be with him. Why she cares is beyond us, considering she has leukemia and likely will not live much longer unless she's granted some sort of medical miracle.
Today was the day that fans were given the answers they've always wanted about John and his mother. We learned her name is Maude and, unlike the many times he thought he'd come up with information about this real family in the past, this is the real deal. He asks her to prove that she is his mother, and she asks him about his birth mark. It appears that this is the real deal.
Photo Credit – YouTube
Tell us what's wrong with this post? How could we improve it? :)
Let us improve this post!