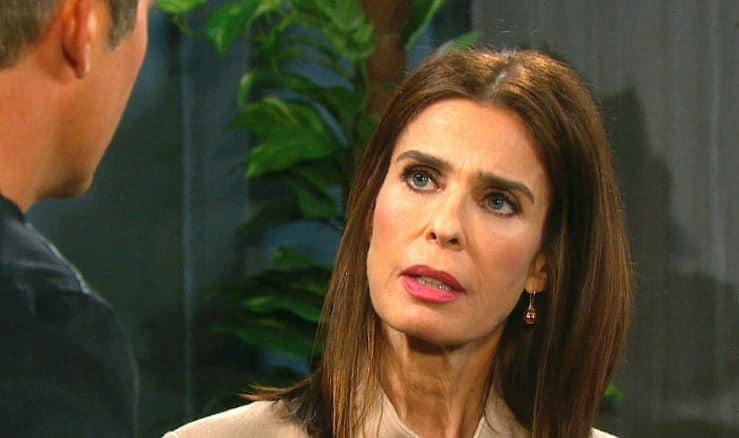 Days of Our Lives fans are all kinds of excited to see that Julie is here and spending her time reminiscing about her life in Salem five decades ago. This is something that she enjoyed doing, and we did enjoy watching. Her stories were beautiful. Her life was good. Things were working for her in a major way. We did love that, and there is nothing about that we did not feel didn't have a place. But that's not all we saw. We also watched as Lucas said a very emotional goodbye to his family. He's made the decision to leave, and it's not been an easy one for him. Chloe, of course, is devastated. She really did think that they had a bright future with one another, but that was simply not the case. She didn't get where she was without things falling apart from time to time, and that's what makes a big difference for all of us.
What we do love, however, is that we can see her change her life. And then we got to see that there is a new couple in town. That couple is Eli and Lani. They hand a pretty unconventional star to things considering it was barely a year ago when they had a one night stand that resulted in a pregnancy, a lie, and a long history of life problems for them. They lost their baby. She lost her relationship with JJ, and things were not good for her with his family. His family was not all that amused by them and their relationship with one another, and that is a big situation for them. But for now, however, we can see that things don't really seem to matter for anyone. We can see that his family has been told of their newfound love for one another, and we can see that this might just result in some serious problem later on.
What's Happening on Days of Our Lives
@nbcdays I am so loving this Abigail/Chad/Gabby/Stef. Written & acted beautifully. Thank you #Superfan

— gigi,CPC,HUC,MS,MA (@dayzfan) December 10, 2018
We do love it when the fans have a little something interesting to say about the way things are going around here. And we do hope that there is something to be said for this. We are excited about all that will go down in this story line, and that makes us very happy about what's coming next.
What's Next on Days of Our Lives
This holiday season, the people of Salem aren't just getting even, they're getting ugly. Watch #DAYS, weekdays on NBC. pic.twitter.com/90qBX5gBZP

— Days of our Lives (@nbcdays) December 7, 2018
Justin is not happy to have to provide a letter to Chloe that will share something with her that will throw her for a total loop. She's in a bad place already, and he is not looking to become responsible for her actions when she realizes that this letter has information that will throw her for a total loop. We can only imagine that this letter has something to do with either Lucas or with Nicole and what she may have wished for baby Holly when she passed. We don't know for certain, however, so don't quote us on that one. We simply want to sit back and see how this all unfolds in the grand scheme of things. This is a tough situation for her to be in, and we get that.
He will not be thrilled to be this person, but he has to do it. She will handle it as well as she can, but we cannot say how she will take it at first. She might struggle, but we do know that there is one person who will be there for her. That's Brady. He's made it his mission in life to see her and spend time with her, and that's been something she's had to do on her own. She's not going to pick up on things at first, but we do think that this is the turning point for her and for Brady and their future.
Stay tuned for more Days of Our Lives and be sure to check out TVOvermind daily for the latest Days of Our Lives spoilers, news, and updates.