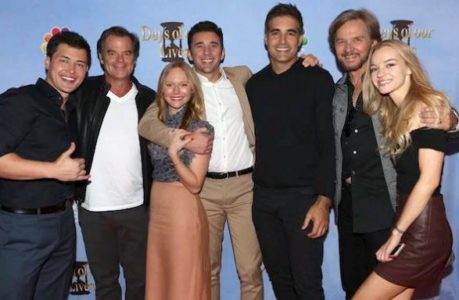 Days of Our Lives fans want to know if there is any chance that Gabi and Eli can make things work. His grandmother really hates her. They've already gotten into a screaming match that caused Julie to fall to the floor and require hospitalization, but this is not enough for Julie. She and Gabi experienced another run in this week, and it was just as dangerous and dirty as the one they had the other week. For whatever reasons, she hates Gabi and doesn't want her near Eli. But Gabi is really beginning to like Eli, and she wants to spend more time with him. All we want to know is whether she's wasting her time.
We all know a man and his mother are the best of friends, and they want to make their mom's happy. There is nothing wrong with that until you're the girl who his mom doesn't like, but there's something even more powerful about a boy and his grandmother — and he is a boy until the day he dies of old age in the eyes of a grandmother. Eli and his grandmother are close, and Gabi isn't trying to come between them. However, Julie hates her and makes it her mission to see that happens. Will Gabi realize that she's not interested in competing for the affection and attention of this young man if it's so important to his grandmother that she back off and leave him alone?
Gabi is a smart and reasonable young woman, and she has no problem taking the high road. How far is she willing to go to try and make things work with Eli before she realizes that things aren't going her way? She's got so much on her plate right now she can't even imagine that there is more to this than there already is, and she's also tired of other women getting in the way of her relationships. Will she let that happen again, or will she allow herself to move on and keep looking for someone who might not have a VIP woman in his life already?