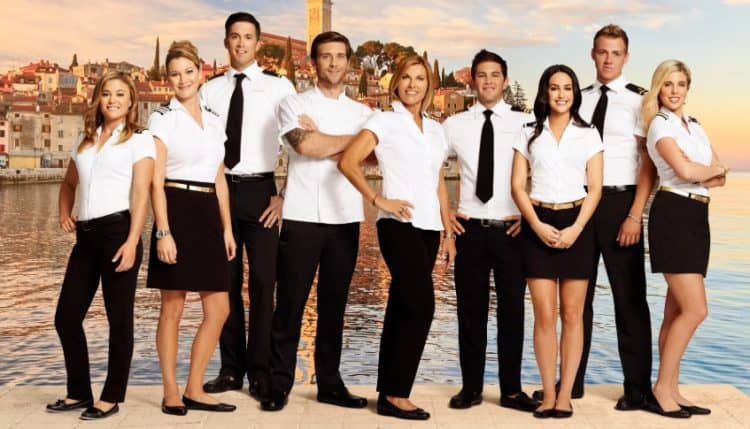 It's another new season for our favorite yachting show, and this time around it's going to be all about the crew. Below Deck season 5 premiered on September 5, and we couldn't help but make predictions on what's in store for this season. It'll be really interesting to see how the old crew handles the new and how the new crew fares with the old. The premiere introduced us to all the greenest crew in the industry, and we're going to let you in on who we saw, what we saw, and what we think will come about.
Thank God for Kate because if this woman is not around, the yacht will definitely go down. Chief stew Kate is back, and we can look forward to the usual wit and confident charm as she gets to train the new crew. We're wondering who's going to last under her rein, or if she's going to be able to handle the completely inexperienced crew at all. Knowing Kate, she'll probably handle it but it might take a little bit of attitude to get it done.
We met Chef Matt Burns, easy on the eyes and good for the belly too. He's got a quiet confidence about him that we like immediately, and we sense a future filled with romantic entanglements on the show. You might think Kate's personality will balance well with Matt's, but you have to take it easy. Matt looks like he's got his culinary eyes set on another newbie.
Bartending school dropout Brianna Adekeye is not the type to fuss about these things. The beauty is a self-described free spirited nomad, who likes to travel the world alone–hence the yachting. She's hiked through Central America and lived in Kauai. Brianna seems to be getting the attention of Matt off the bat, but did Brianna seem interested? Maybe. But we also know that Brianna has history with someone else on the yacht.
Enter our other veteran Nico. Nico is back to help Kate and Captain Lee out, and from what we hear, he's had a little taste of Brianna from working together on a different charter. Let's just say one of their nights together involved a lot of drinks and a water taxi. We know for sure that Brianna is not as innocent as she plays to be, but whether or not we can actually trust her is yet to be seen.
We also met a couple of other characters in the premiere. There was Florida native Jennifer, the boat loving, real estate big shot, who gave up her career for a life on the ocean. There was Bruno, a handsome Portuguese with a penchant for hospitality. We also met Baker, a traveling southerner that's passionate about many things, and another traveling deckhand Chris Brown completes this group of unlikely co-workers.
We're excited for this season's adventures and mishaps and we can't wait for all the drama to start. Tune in with us every Tuesday at 9:00 pm ET to watch the latest on Below Deck.
Save
Tell us what's wrong with this post? How could we improve it? :)
Let us improve this post!