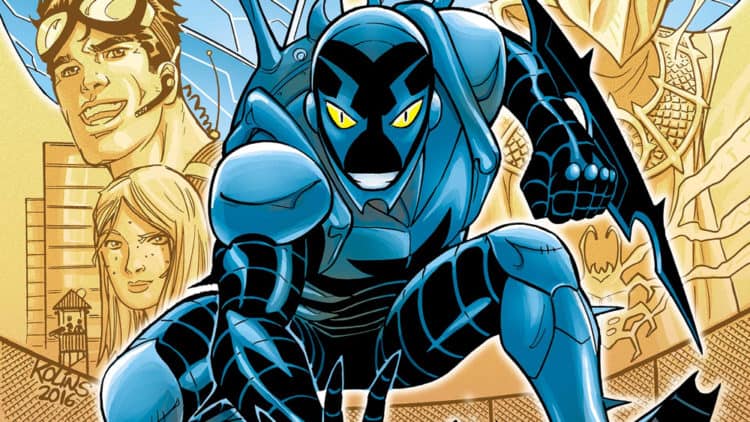 It could be a big year for DC since it sounds as though there are plenty of titles on the way, and the Blue Beetle is going to be joining them. The movie has apparently just been granted a new director, Angel Manuel Soto, who will be in charge of getting this project off the ground and into the theaters should they be allowed to reopen. Along with several other movies, it does feel that DC is making a big push to assert its dominance in pop culture once again and the Blue Beetle could be another way to make this happen since the story, which a lot of DC fans might know but the casual moviegoing fans might not, is one that's fairly interesting and has its own backstory that shares the DC universe. It does sound as though the Jaime Reyes version is going to be used, which is creating another stir since it will mean that DC will be welcoming its first Latino hero, something that will hopefully gain a mention but not be the driving force behind pushing this character to the audience. One thing about 'the first' of anything is that it tends to be given a great deal of attention, especially these days when representation and diversity have gained so much focus.
Any plans to team him with Booster Gold, another impressive DC hero, have been scrapped at this time, as the focus should probably be on Reyes to start with considering that getting him on screen where people can see him, and allowing people to get to know him should be the main focus. With the inclusion of another hero into the DC universe one has to wonder how many others will be headed to the big or small screens in order to keep rounding out the cinematic universe. It's also a question as to whether the attempt is going to be made at a crossover again, but as of now, it's not entirely certain if that would be a good or even desired idea. Perhaps if the Snyder Cut manages to create enough buzz it would be possible, but until then it's simply too hard to say. Right now it almost feels as though DC is attempting to bring forth as many ideas as they can to make certain that the fans are appeased and their stories are allowed to be seen in order to continually flesh out the DC universe. It's a smart move in a way, to focus so intently on standalone movies at this time since it's what they should have been doing in the first place to build up the brand and eventually lead into something like the Justice League. Had this been the route they went it feels as though it would have left them playing second fiddle to the MCU, but not by much since they would have been going at their own pace, and would have likely had more success when it finally came time to unveil some of their greatest ideas.
Some folks might want to say that the Blue Beetle is a well-known character, but they would be forgetting that not everyone reads the comics. Even MCU fans have been amazed to learn that a lot of people still don't know that much about certain characters that have been around for decades, and while the original character of the Blue Beetle came out in the late 30s, the character of Jaime Reyes didn't appear until 2006, which means that while the character has been around for a while, the incarnation that we're going to see has been around for well over a decade, but nowhere near as long. It does make sense in a way to use a current incarnation if only because the character will be easier for people to relate to and, as one could probably guess, being Latino is going to be a big deal as well since that idea of diversity, great as it is, will be pushed as much as it possibly can be for as long as possible. Diversity is great and definitely increases the efficiency of many stories, but continually hearing about is like being beaten over the head with a Nerf bat that's been studded with ball bearings.
It's very easy to be interested in this idea and to think that it might be kind of interesting to see develop, but it also brings to mind images of The Guyver and other such superheroes, even though there are plenty of differences to be mentioned. Super suits and younger heroes are at this time kind of an interesting thing to think about, and Blue Beetle will be able to explore this dynamic when it's finally ready to be released. There will be more information forthcoming eventually, but for now, we just need to sit back wait.