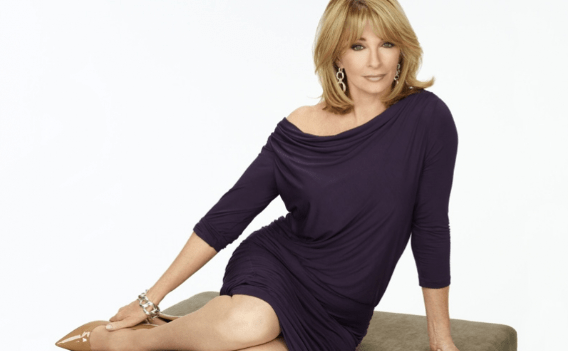 Days of Our Lives fans know that their favorite stars are paid well to show up for work on the soaps, but just how much are they worth? While it's not entirely accurate to pinpoint the net worth of every star on the show on any given day, we do like to go out of our way to see how many of the stars here are using their money wisely. We don't know who gets paid the most or what they do with their income, but we do know that there are a few stars on the show who are worth a little more than others. Think you know who it is in Salem who has the biggest bank account? You might be right…or you could be so wrong.
Allison Sweeney
You are right to think that she might be somewhere on this list given the fact that she is not just a soap star. She's got a few other jobs, including Hallmark movie star fame and even game show hosting fame. She's been making money left and right since she landed her gig here on Days of our Lives, an we are not sure she's done just yet. She has an estimated net worth of $9 million as of 2018, which makes her one of the wealthiest women on the show. She's not always around, of course, but she's always worth watching when she is. She's so big in her role and so good at what she does outside of her role that she's definitely working very hard to keep fans across the board happy. She's a multi-talented star, and it just shows us with her net worth that she's really good at all the things she's working on at the moment.
John Aniston
Not only is the father of the one of the most famous women in the world (That would be Jennifer Aniston for anyone who missed the name connection there), he's also a very famous and very wealthy man. He has an estimated net worth of around $10 million. He gets most of it from his work on the soaps, and that's probably because he's been there since 1970. He's also a man who takes work elsewhere, such as primetime shows (Did you catch him for many years on Gilmore Girls, for example?). He is a man of many talents, and one of those many talents is definitely making a ton of money. He's a man who is not afraid to make his dollars count in the daytime world, during primetime hours, or even on the big screen when he's starring in movies. Apparently, his apple did not fall far from his tree.
Deidre Hall
She is the woman with approximately $12 million reasons to love what she does for a living. She's been in the industry for many years, and she's certainly making it count. She began working in the 70s after she made the big move to LA. She was ready to take work in the industry, but she did not get her start on the soaps. She actually began her career as a model — and we get that. She's gorgeous even if it's been almost 50 years since she got her start as a young woman. She also landed a role on a television show that made her fall even in more in love with the world of acting. That role allowed her to take on more roles, which eventually landed her here on the show that she is so famous for being on. She's been working on things like primetime television shows, she's worked in the movies, and she's also done a lot more. Over the years, she's made quite a bit of money, and she appears to use it wisely to invest in her future, her life, and her enjoyment. She's currently listed as the wealthiest recurring actor on the show, and that's a big deal when you take into consideration the many talented people she works with on a daily basis — and the work they do when they are not working on the soaps. She's impressive, and we assume she's just as smart as she is talented, too. We like that.