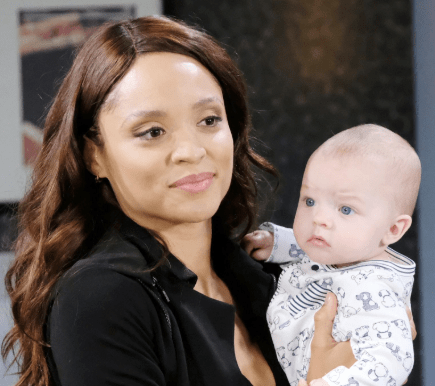 Days of Our Lives fans are always surprised by the things some people do to make their own lives more interesting, and what Stefan is offering Abe is one of those things. However, it's not quite as surprising that Stefan is making this offer as it is the fact that Abe is even considering it. He's not a perfect man, by any means, but he is a man who has some moral integrity in comparison to other people in Salem. He certainly has a lot more than Stefan could ever hope to have. But, Stefan feels that there is a mutually beneficial situation in their minds, and he's not afraid to use that to get what he wants from life. He is a man who wants things to go his way, always, and he's not afraid to ask for that. This time, he's asking that from Abe. And we just don't know how Abe will approach that one.
Meanwhile, we can see it's obvious that Jennifer and Eve are not going to see eye to eye on anything in their lives. They are not about to get their situation under control. They are not about to find things working in their favor on either side of their situation. Eve won't do what Jennifer wants, but Jen is not the only person out to get her right now. She's got a long line of people in the wings who want to see her fail. They want to take her down. They want to make her miserable. They want to do things that make her feel bad about herself. This is how they roll, and this is what she's up against. Her heated argument with Jennifer is one in a million these days, and she's got to find a way to get her life in control.
What's Happening on Days of Our Lives
https://twitter.com/SoapTweetsGH/status/1138145688888520704?ref_src=twsrc%5Etfw
Sure, great, as always. Show us a time when they are not fantastic.
What's Next on Days of Our Lives
Soak up the Summer Days. Watch #DAYS, weekdays on NBC. pic.twitter.com/IBHxJcIiQv

— Days of our Lives (@nbcdays) June 5, 2019
Xander wants to impress Sarah, but he forgets that he is the worst kind of person who does the worst kinds of things to people whereas she is just a nice woman. But, he's going to try and come in and save the day when things don't go according to her plan, and he hopes that it will be enough to make her want to spend more time with him. And that will not work. But he is trying, and he is giving it an A-class effort. It's weird, though, and we wonder if his infatuation with her will be the turning point for some other things. For example, the situation with Nicole not being Nicole but actually being Kristin. Maybe he will tell the truth about some things in an effort to try and win her over, but what do we know?
Then there is the fact that we know that fake Nicole is working very hard to convince Stefan that she is herself and that she needs a job. She wants to come to work for DiMera, and she's going to convince him that this is a good choice. She's not really Nicole, but no one else knows this, and it will be bad when it all comes to light. Ted is going to try hard to be a hero to Hope. That seems to be going around these days, and it's not good for anyone. The men who do the worst things are all trying to be the best people, and we aren't buying it. At all. It's old, and we're over it.
Stay tuned for more Days of Our Lives and be sure to check out TVOvermind daily for the latest Days of Our Lives spoilers, news, and updates.