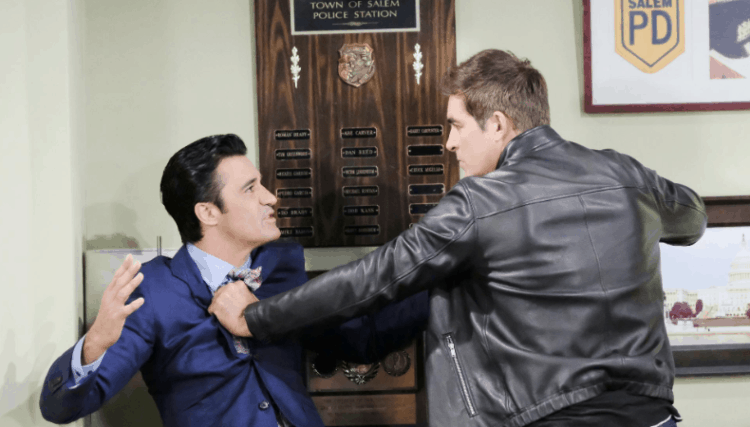 Days of Our Lives fans are sure that there is something going on with Chloe, and they don't know what to do about it. They have to find a way to make sure things are working in their favor, and she's not sure she can do that without the help of Stefan. He is not the kind of man who is going to make many decisions that don't apply to his future and his life and what he can accomplish. But that's all we really know about him at this moment. He might be the nicest man in the world if he finds a woman he truly cares for, but he's still so mad abut Gabby that he can't function — and she is not even a real human. But, right now, Chloe is close to him. She's found out that someone might be following her, and he has already been there for her when she needed him the most. Someone was following her with a gun, and he handled that.
But who is it? And why are they following her? What does she have or know that they want to stop and take for themselves, and can Stefan really help her out? She's scared for her life at the moment, and it's hard not to blame her. She has a child to care for, a lot to deal with, and a big situation in her mind that is not working to her advantage. We aren't sure what is happening, but we do know that there is a lot that might occur in the coming weeks that provides us a little more insight into what is going on. And we do have to wonder if there is a connection between this and something else going on in Salem.
What's Happening on Days of Our Lives
In case you missed it: @camilabanus chats about the Chad and Abby exit. Then, @ChandlerMassey and @freddiemsmith discuss all things Will Horton and Sonny Kiriakis. Check out the latest episode of Inside Salem!https://t.co/osC82InpUN pic.twitter.com/Hk8g9eqdNS

— Days of our Lives (@nbcdays) March 5, 2019
We are so excited about this!
What's Next on Days of Our Lives
Ben refuses to put Ciara in any danger. Even if that means parting ways. #DAYS pic.twitter.com/ccLVMduNWh

— Days of our Lives (@nbcdays) March 5, 2019
Things are taking crazy turns around here, and we love it. For one, we know that Marlena is very unhappy with her new husband but her old love. She had no idea he might have a child out there he didn't know about, but we all know that's how soaps work, right? They all have some kind of illegitimate child out there that they don't know about, that isn't working for them, that isn't in their game plan. It's a real thing if you ask us, and this is one of those situations in which it's true. She's found out about the potential that Leo is John's son and the fact that he might have known about this already. She's going to bring to his attention the fact that she is aware of the paternity test he took, and she will not be at all happy about this. She will have more questions than answers, and she might just make him feel very uncomfortable about the whole thing.
And then there is the fac that we have to figure out what is going on with Rex, who is going to come across a man who has a gun and is stalking Chloe. He knows that there is something off about all of this, but what will he do about it? Can he help her, or will she continue to turn to Stefan for what she needs? She's been spending more time with Stefan, and he's into her. He's got to find out if this will work, so he might just help.
Stay tuned for more Days of Our Lives and be sure to check out TVOvermind daily for the latest Days of Our Lives spoilers, news, and updates.