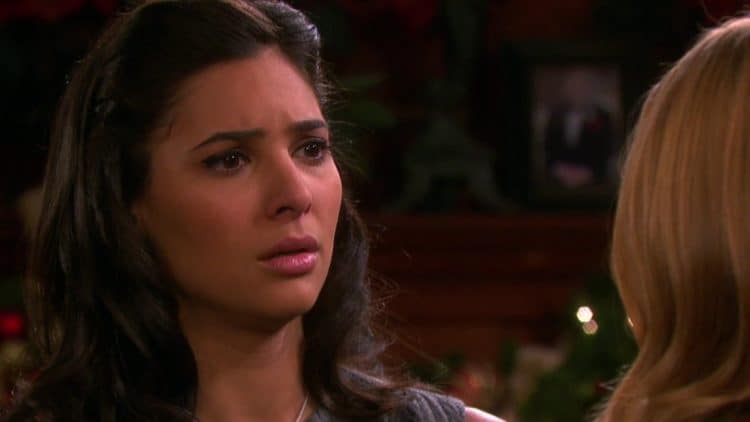 Days of Our Lives fans are not sure that we have ever seen a lot of things go down the way that they did last week. For one, we are just shocked by so many things. Nicole, for instance, is doing all she can to find out who fathered the baby that Allie is carrying. She is not a stupid woman, and she knows that this is a young woman who is not telling the truth about something. She's keeping things to herself, she's making some mistakes, and she's not being honest with herself. Nicole is done with people who live their lives like that, and she is not going to sit around and allow anyone else to bother with it. She has a few things in mind, but she needs to get this young woman to be honest with her and her own uncle. She will do it, if she can.
Gabi is not dead, thank goodness. She was missing, she was found, and now she's focused on all things Jake. She's not about to let go of the idea that he is really Stefan and that he is alive and well, but we think she's wrong about it. Kate was frustrated last week, and she chose to make Hope her punching bag. Hope is already dealing with a lot since Rafe recently received such bad news about baby David, so we are just hurting for her right now. Eli and Lani are living their dream right now, and they are doing all that they can to find a way to enjoy what is going on in their lives and in their future. Eric is doing all he can to help his twin sister's daughter, but he is struggling with that and with what he needs to do to really help.
What's Happening on Days of Our Lives
Watch @KateMansi take the reins as she presides over her first #Days production meeting as a director. How will she do? Check out an all-new #OnStage2BTS now on the #DOOLapp @SoniaBlangiardo #Abigailhttps://t.co/VJkwBHoKnC

— Days of our Lives (@daysofourlives) February 27, 2020
It's sad to think that they are back, but she is not.
What's Next on Days of Our Lives
It's a summer of love in Salem, with weddings for four couples and a baby for Will and Sonny. Watch #DAYS, weekdays on @NBC. pic.twitter.com/5Z6YPVoRN7

— Days of our Lives (@nbcdays) May 29, 2020
Rafe is doing what he can, and what he can do is make a deal with Rolf. He needs this man to help him out, and he's willing to make a deal with the devil himself to make this happen. We aren't good with this, but it's what he feels is the right thing to do. We have a feeling this is going to come back and it's going to haunt him in a way that is not going to do well for anyone. Chad and Gabi are going to get into a fight that is nothing short of heated. They are frustrated and angry with one another, and they have so much to work with. They are struggling, and we get that. They have a big issue with one another, and that's a situation we get. She is a problem.
Jake is going to realize that while things might not be good with Gwen, he is feeling her. They are going to take things up a notch and get a little hot and heavy with one another. We cannot see this ending well for either of them, but they seem to want to go this route even though things are a bit crazy for them. On the other hand, we also know that Claire is trying to work her A game. She's going to apologize to her grandmother, Hope, for what she did to Ciara, which only makes Hope feel so much better about her even though Ciara is still unsure. This is going to be a situation that doesn't end well for Claire, but it will probably be worse for Ciara first.
Stay tuned for more Days of Our Lives and be sure to check out TVOvermind daily for the latest Days of Our Lives spoilers, news, and updates.
Tell us what's wrong with this post? How could we improve it? :)
Let us improve this post!