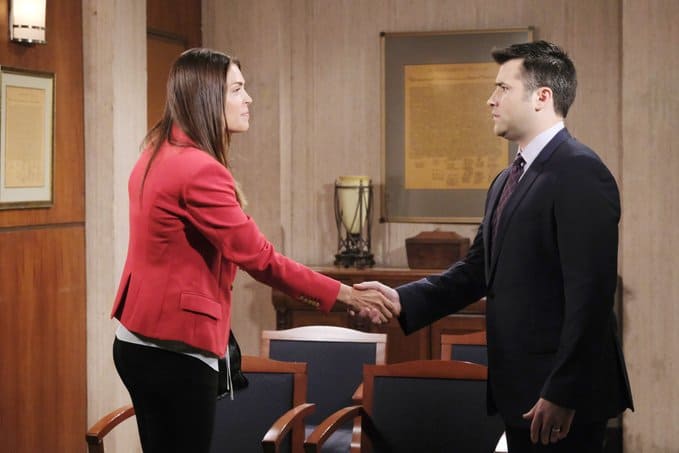 Days of Our Lives fans are shocked about all that has happened this week. It's been a totally and completely shocking week in every manner of speaking. Ben is having some serious complications with many of the things in his own life. He is not handling things well, but we get that. We know things are not easy for him right now. He's got so much going on. But, will he ever find himself in a situation where everything is not dangerous and upsetting and terrifying for him? Or, will he find things not working for him the rest of his life? What kind of hope can he have for himself and for Ciara if that is the way his life is going to continue forever? We think he needs to consider his friends, and he needs to find a way to make sure things for all of them are normal and easy.
Gabi is so convinced that her dead husband has somehow managed to come back into the world without a heart and without life, and that he is Jake. She's so sure of herself and her random thought that she is going to kiss him and make him realize that she is his one true love. Marlena is a longtime friend of Kayla, and she knows her. She knows that she found some happiness with Justin when Steve was gone forever. That loss was too much for her. But, now that Steve is back, her friend knows Kayla is absolutely conflicted. Who does she love more? Who is more important to her? What will she do with her own life? What will work for her? Lani, on the other hand, is helping Kristin look for Sarah so she can get her baby. But, is Sarah in danger because of this?
What's Happening on Days of Our Lives
.@nbcdays star Stacy Haiduk on Kristen confronting Victor about the Rachel news and how she's staying balanced while self-quarantining https://t.co/1qntEGmnMX

— TV Insider (@TVInsider) April 23, 2020
We love behind-the-scenes stuff.
What's Next on Days of Our Lives
Sarah takes extreme measures with Rex, and Kayla is angry to discover Hope has moved in with Steve. Watch an all-new #DAYS, weekdays on @NBC. pic.twitter.com/oIWVgXhYaR

— Days of our Lives (@nbcdays) May 1, 2020
Things are taking a crazy turn as the weekend rolls into the day, and that's all right. We are fine with that. We want to see where things are going from here, though. Lani is not happy that she has to tell Eli what is going on. She has to tell him that she helped Kristin escape from him and the arrest that he knows he has to make, but she knows she did this for a friend with whom she bonded so much during the past year. She's a woman who needs to find her baby, and Lani knows she was wrong to do this and break the last. Will Eli forgive her for this, or will this become a situation she is going to end up regretting? Ciara is not happy when she finds out that Ben's been hurt. She has to tend to him, but now she will do nothing but worry even more for him.
Xander has to warn Victor that Maggie is aware of what happened, and that she is a woman who is anything other than happy. She will be furious, but we have a feeling that her fury is nothing compared to how he is feeling now that he knows his wife knows. Sarah thought her plan was a great one, but she's about to find out that things are not as good as they seem, that they are not going the way that they were meant to go, and that they are a mess. She's got a snag to worry about, and we have a feeling this is only about to get worse.
Stay tuned for more Days of Our Lives and be sure to check out TVOvermind daily for the latest Days of Our Lives spoilers, news, and updates.
Tell us what's wrong with this post? How could we improve it? :)
Let us improve this post!