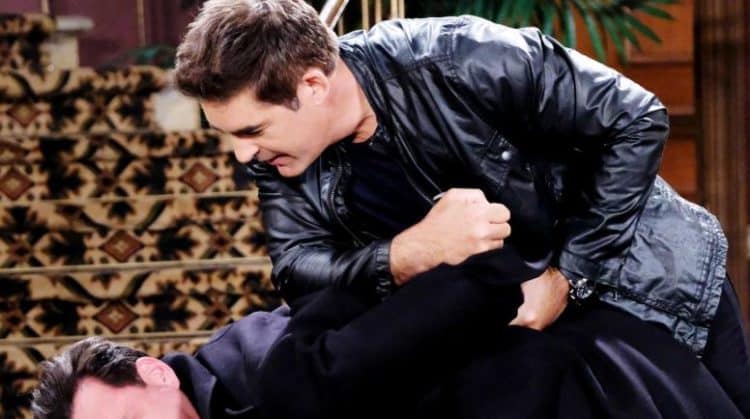 Days of Our Lives fans are still a little confused about what happened to make Hope want to be there for Stefan, but we have to remember he is the kind of man who can get anyone to do anything if he puts his mind to it. He's a manipulator and the kind of man who does what he wants, when he wants, and he's not afraid to threaten, bribe, or otherwise walk a very thin line between being kind and being a total rulebreaker. And by kind, we mean that he's not killing people — yet. He might still have his moment in which he chooses to take the low road, but we aren't sure he will do that in the current situation he is in. He's not looking at a bright future if he cannot get things to fall into place for him, which is why he worked so hard to have Ted become his attorney. And Hope is the very woman who made that happen for him. We get it, and we kind of even understand it a little. Maybe — just a little, though.
Xander is not going to make any friends while he is back in town, but that does not mean he will not do anything and everything it takes to find himself in the good graces of Victor. He's a man who knows when he has to do something to make himself look better, and this is one of those times. He's going to continue to go out of his way, and he's going to do it with a passionate vengeance. He's not a nice guy, and that means he's not going to make any friends — but Victor doesn't want, need, or care for friends, if we are all being very honest. This makes Xander the perfect person for him.
What's Happening on Days of Our Lives
https://twitter.com/nbcdays/status/1082008925686382592?ref_src=twsrc%5Etfw
They are certainly getting all the love right now, but how much longer will they last when they start thinking about their sad past?
What's Next on Days of Our Lives
Xander and Leo team up to take over, and Haley has a secret. Watch #DAYS, weekdays on NBC. pic.twitter.com/LGks6xugLY

— Days of our Lives (@nbcdays) January 4, 2019
There is a lot happening right now, and we are just so surprised that we didn't see this coming long before. Leo is married to Sonny, who hates him and wants nothing to do with him after all that Leo did to him. But the fact that he thought he killed Leo aside, he was blackmailed into marrying this man despite the love in his heart for Will. He and Will are working to find time to see one another regularly while Leo is in the picture, and they are doing an okay job of it — but they worry for their safety. But, there seems to be a new situation in town, and it seems to be working for Sonny and Will in a very strange way. You see, it seems that Xander has quite the effect on Leo. This will become obvious as they meet for the very first time.
Leo is going to love what he sees when he meets Xander, and we have a feeling that this might be the out that Sonny and Will are looking for. The only problem is that they have to figure out if Xander might be interested in him in the same manner. We don't know that much about his personal preferences, which means he may not be interested in him in that way, but what do we know about things like that? He may be, and we just don't really know what he likes at this point. Xander is always a mysterious figure in the land of Salem.
Stay tuned for more Days of Our Lives and be sure to check out TVOvermind daily for the latest Days of Our Lives spoilers, news, and updates.