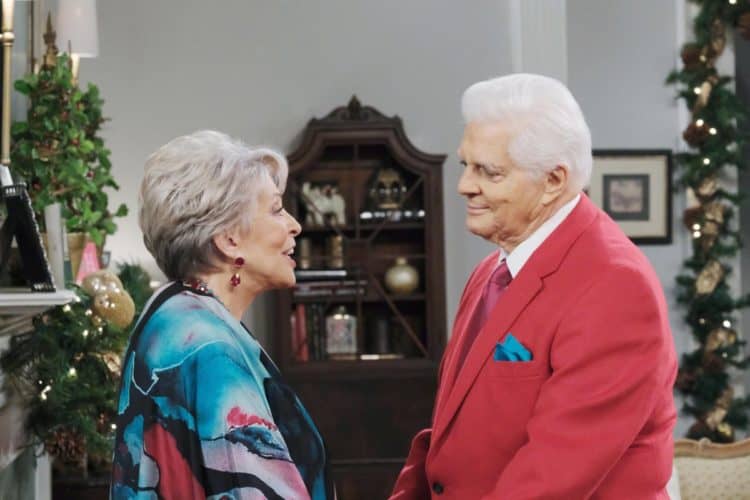 Days of Our Lives fans can feel that things are taking a very ugly turn for so many people. The past week left many of us with more questions than answers, more fear that promise, and more impatience to see what is to come than anything else. We are not sure how to focus on anything other than what is going on in the moment, but we are also pretty excited about all of it, too. There's a lot going down, and we want to be part of that as it happens. For example, did you know that Ciara went to be with Ben on the day of his final appeal even though they have been working so hard to keep things on the DL? And Rafe got an earful from Gina, who is not happy with his decisions and the way things are going for them. We also know that Steve and Kayla had their first face-to-face in years.
Things were not good for many, though, either. Ciara is a mess right now because both Victor and Xander know that she is not doing things that they said that they would. They are onto her and they know that she's been playing them, which is a dangerous mess for both of them. They have very little of what they need in the moment, but they know that they are unhappy with her, which we know means that some things are not going to work out for her. We have a bad feeling that this means Ben is going to end up in some trouble, but that's just par for the course if you ask us these days. It's a mess, they are a mess, and everyone is a mess. There's so much we don't know, though, so things could change a bit.
What's Happening on Days of Our Lives
https://twitter.com/nbcdays/status/1209926894659031046?ref_src=twsrc%5Etfw
Did you get to see this, yet?
What's Next on Days of Our Lives
Old flames interrupt the New Year's celebrations in Salem by revealing themselves – including Steve! Watch #DAYS, weekdays on @NBC. pic.twitter.com/kxPhAXcXo8

— Days of our Lives (@nbcdays) December 28, 2019
Victor and Ciara are going to have a big confrontation with one another. She's been lying to him about all of her feelings for Ben, about what she's been up to, about her life in general, and things are not looking good for her. She's not happy about the fact that he found out, but she had to know that showing up for his appeal was going to throw him into a total tailspin with the way things are going in his life. And their fight is going to turn into something none of us or even either of them saw coming. Rumor has it that it's going to take a turn we don't know anything about. On the other situational front, we are going to see that Kayla wants to know more about the woman with whom her husband is in love. They haven't been together in a long time now, and he's admitted to her that there is someone else.
We don't buy it, of course. But that's what the rumor is right now. There are so many things happening in this situation that we are finding almost everything about it hard to believe, and that's just us in the moment, too. We don't know about many things, but we do know that there are things that cannot be changed, that cannot be handled, and that cannot even be helped. We cannot wait to see more of it as things unfold.
Stay tuned for more Days of Our Lives and be sure to check out TVOvermind daily for the latest Days of Our Lives spoilers, news, and updates.