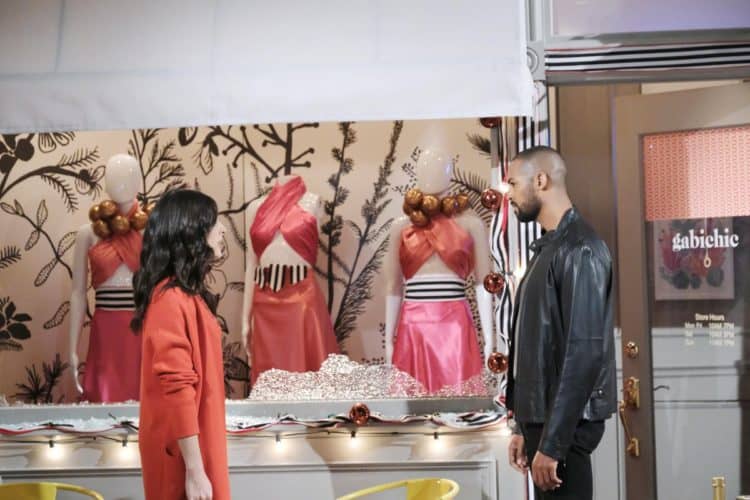 Days of Our Lives fans saw that the very last day of the year was a dramatic one. Doug and Julie made it their goal to do all that they could to make sure their party was a good one, but things are not always as they seem. You see, there is always a bit more to the story than might meet the eye. They invited their friends and family with them to celebrate the beginning of a new year, and things are taking a very ugly turn for them as a couple showed up who was clearly not expected. They didn't invite this couple. This couple is not one that they thought they would see at all — ever — and there is no way to believe that this is happening right now. We can say that it did drive us crazy to see it all go down, though, but probably not as much as it killed this couple to see.
Eli was shocked and surprised when he was given some information about what happened at Gabi. He was not prepared to hear the information about what happened when a rock was thrown into the window, and now he's not sure what to do with the information as he has to handle it. Will he tell what he knows, or will he keep it to himself and try to figure out what's true and what is not true in the meantime? We cannot be certain that he can figure this out on his own, but we can be certain he might have more to his insight than he thinks. We don't know where this is going, though. Kristin is beside herself. She did not in a moment think that she would come home from where she was to find that Nicole and Brady were kissing, and her new year is off to the most horrendous start.
What's Happening on Days of Our Lives
Deidre and Drake are #DAYS legends. The pair share what it's like when your on-screen family becomes so much more. pic.twitter.com/c9PyhIFj74

— Days of our Lives (@nbcdays) December 30, 2019
They are the absolute best, and we love hearing their stories together.
What's Next on Days of Our Lives
Old flames interrupt the New Year's celebrations in Salem by revealing themselves – including Steve! Watch #DAYS, weekdays on @NBC. pic.twitter.com/kxPhAXcXo8

— Days of our Lives (@nbcdays) December 28, 2019
Happy New Year! 2020 is officially here, and there is nothing else we can say about that other than the fact that we are so excited for a new year and a situation that allows us to feel like we all get a fresh start and a new lease on life. The old year is done, the new one is here, but it certainly doesn't feel like that on Days when you consider just how much they lasted last year. You see, the show skipped forward a full year just a month ago, and now we are all catching up and finally meeting them in the middle with the new year. Either way, the new year is here for all of us, and that makes today an official holiday. You see, there is not going to be a new show on the air today, and that's a tragic moment for some fans.
Honestly, we think that if there is any holiday on which there should be a new show, it's today. Aren't most of us just lounging around the house today working off the exhaustion we feel after staying up to ring in the new year last night? I mean, I did, and it was a struggle to stay awake that long. However, no new show today. Don't worry, though, the show will be back tomorrow and it will have some brand new information and stories and things for you to catch up on. We think you will like it, and we do hope that you are fortunate enough to have celebrated a bright and happy new year with all the safety precautions and a magical new year's kiss.
Stay tuned for more Days of Our Lives and be sure to check out TVOvermind daily for the latest Days of Our Lives spoilers, news, and updates.