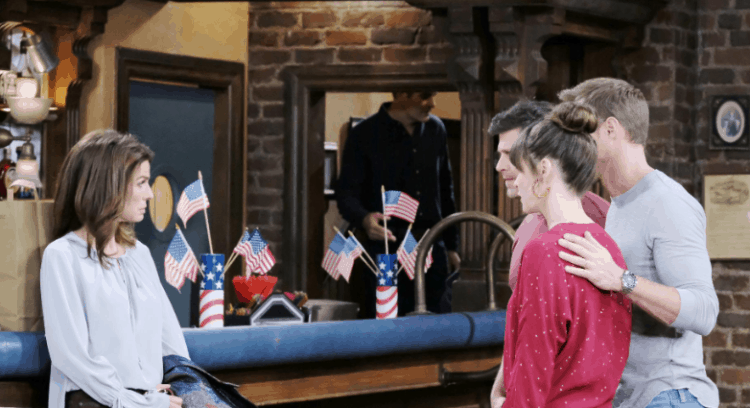 Days of Our Lives fans know that Kristin/Nicole was not even remotely close to happy when she found out who was in the secret room that Xander has been using. She gave him some very explicit instructions to get rid of Ted, and to find him and Kate in there has not been something she's appreciated at all. She's not the kind of woman who does well when people don't do things her way, and she's not going to sit back and allow anyone to get in her way. We suspect she's going to have some plans in mind to make this right in her own way of thinking, and that will not bode well for anyone else in the meantime. For now, though, we assume she will not have much else to do other than try to keep her identity a secret. She cannot have everyone figuring out who she is and what she is up to, after all. That would not be good news.
Then there is the fact that we cannot see things unfold in another manner. We cannot see that there is anything we can do to make it right for Hope, and there is nothing she will love about the situation. She thinks Ted is missing and possibly dead, and she is not sure where he is. She does, however, suspect that question Xander about it. How well will he lie about this and what he's done or not done to Ted at this point? And, will he tell her that Ted is a lost cause, anyway? He's off with Kate, and that's not a situation he's hating if their intense make-out session is any indication of how he is feeling.
What's Happening on Days of Our Lives
https://twitter.com/nbcdays/status/1147128024657203200?ref_src=twsrc%5Etfw
Our favorites, for sure.
What's Next on Days of Our Lives
They take their relationship from office fling to the real thing. Watch #DAYS, weekdays on @NBC. pic.twitter.com/G6kLHRKzIw

— Days of our Lives (@nbcdays) July 5, 2019
Marlena and Ciara are more than a little bit disappointed in Eve and all she has to offer the world. She did some horrible things, some no good things, some really ugly things to Claire, and they know it. They are also letting her know that they know, and they are not amused by her specific situation and all that she is currently bringing to the table. She's a woman who has some serious issues at hand, and we are not surprised by her behavior. She's a woman who has shown her true colors in this. She's a woman who just used a child to get what she wanted, and now everyone knows what she did, and they are not happy about it in the least.
Tripp is going to reconnect with Haley, and we do wonder how that is going to go? Will he find that he has developed some feelings for her despite the fact that she clearly loves JJ? Or will they continue the friendship they had when they were here and spending time with one another around these parts? We cannot decide, but we think that this will go so far as to upset Claire even more if she finds out about it. Claire, on the other hand, is out. She's leaving Salem to get the help she so desperately needs, and we are glad to see that she's gone and doing this for herself. Her family is here for her, and that's a good thing. She may be back one day.
Stay tuned for more Days of Our Lives and be sure to check out TVOvermind daily for the latest Days of Our Lives spoilers, news, and updates.
Tell us what's wrong with this post? How could we improve it? :)
Let us improve this post!