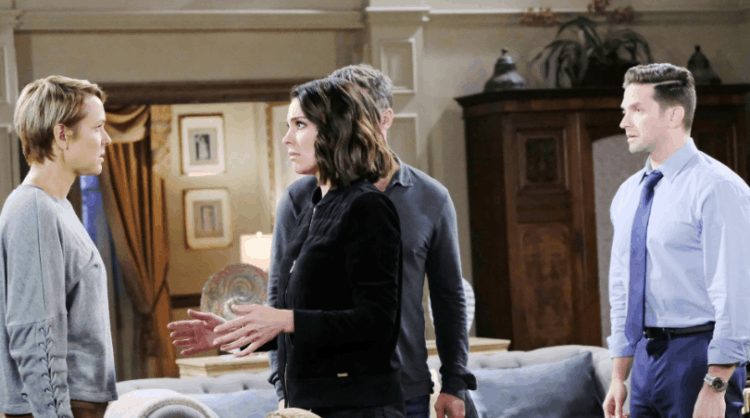 Days of Our Lives fans are not really sure how to focus on anything other than the fact that baby Chloe is gone and someone had to tell her adopted mother, the woman who carried her, that the baby is missing. And that was Ciara and Ben. They had to break not only that news, but also the news that Nicole is back, which is great news for these friends. But, it's also bad news when you take into consideration the fact that with her own mother back from the dead, the sweet baby doesn't need Chloe as a mother anymore. Her real mother is alive and well, and that means she's no longer the mother of this child. And that is heartbreaking. Being the people to tell her this while she is with Stefan was not a fun job that anyone really wanted to do, but they did it. And that was hard.
Meanwhile, we also got to see a few other things happen. For one, seeing Nicole and Eric together was a little bit magical. We knew Sarah would be hurt by this, but she's got to let that go. She is with Rex, and she is planning a wedding to him. She knew Eric wanted to be with her and she could not make that decision, and now it's been made for her. She cannot have two men and expect him to leave behind the love of his life when she comes back from the dead. She's hurt, and it will affect her. But, we also thought it might do just that. Seeing him with Nicole makes her realize she cannot have all the things she wants in life, and that's just her reality and her life. She's not getting all of it, and that's where it stops.
What's Happening on Days of Our Lives
Just some of the #DAYS gals getting pumped for the @DaytimeEmmys!

📷: @camilabanus pic.twitter.com/xKus1rzLcR

— Days of our Lives (@DaysPeacock) May 1, 2019
This looks like the kind of place we'd like to be at the moment.
What's Next on Days of Our Lives
Three familiar faces return to Salem for some unexpected drama. Watch #DAYS, weekdays on NBC. pic.twitter.com/E49yTceOcR

— Days of our Lives (@nbcdays) April 26, 2019
Things are taking ugly turns around here. Hope and Rafe are working together despite their personal issues. We know she's unhappy with the amount of time he is spending with Lani as they work together to take care of Jordan's baby, and he is not happy that she is spending so much time with Ted. Now they are working together because they have to find a baby that's been taken. Ted is a sore spot in their marriage right now, and they are about to go on a search that will lead them to him to find this baby. There is a lot going on right now, and it's going to end up in a bad place for them. Rafe will believe that Ted was involved, and Hope will not want to believe it. That will cloud her judgement and her life, and that will make things uglier for them.
Things are going to take a moment to come into play, but we hear that there will be a big moment between the two of them when things go very wrong, and it makes the entire thing turn into a mess. We hear that there will be a tragedy when Hope tells Rafe not to do what she asked him to do, and things will go south in a quick fashion. We don't know how bad this will get, but we have a feeling that someone will not make it out of this situation alive. Any ideas who that might be?
Stay tuned for more Days of Our Lives and be sure to check out TVOvermind daily for the latest Days of Our Lives spoilers, news, and updates.
Tell us what's wrong with this post? How could we improve it? :)
Let us improve this post!