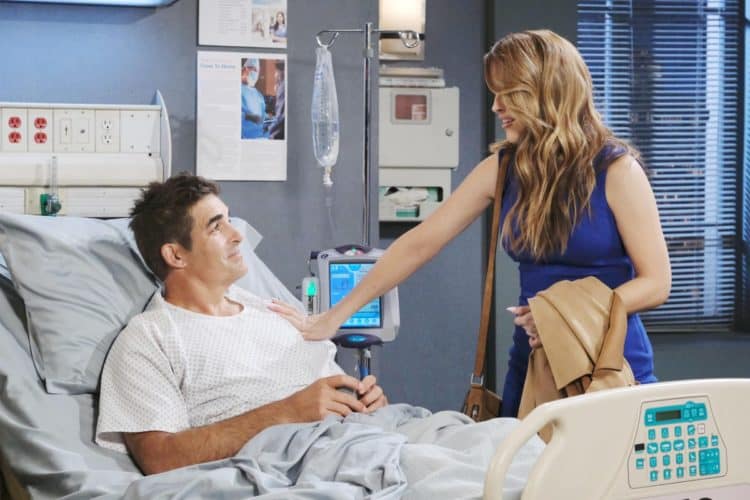 Days of Our Lives fans know that Lani has to do something to keep herself in check and to keep her future from looking grim, but she's not going to find that an easy task with Gabi after her. She's going to try to outmaneuver her and get things done in her own life, but can she make that happen or is she only kidding herself? We aren't sure that she can outthink Gabi now that Gabi is done playing by the rules and doing things the right way. Meanwhile, Lani is an officer of the law, and her job is to play by the rules and allow herself to get things done that are within her realm of understanding. We don't think she is any match for Gabi, and we think that this is going to be a real issue for her in the long run. She's not match for this scorned and heartbroken woman.
Xander is not playing the fair game right now, either. He's making sure that Nicole knows that Eric has feelings for Sarah, but we don't get it. He wants to be with Sarah, so why is he going down this road and doing this knowing that it will only make Nicole more likely to do the wrong thing? Is this him trying to make things right for Sarah so that she can have something she loves in her own life? Will he really sacrifice the way that he feels for her so that she can have the kind of love and future she wants with him and with her baby? We think he might just be doing that, and we think that it might hurt him more to do this than anything else in his life, but we admire it and what he's doing.
What's Happening on Days of Our Lives
#DAYS co-exec producer @greg_meng on 'Chad and Abby in Paris' coming to an end on #DOOLapp, Billy Flynn and Kate Mansi returning to the show, and more digital series in the works. https://t.co/LpiBC58CYe

— TV Insider (@TVInsider) October 29, 2019
We love this show.
What's Next on Days of Our Lives
Distraught over losing Stefan, Gabi will only give his heart to Julie's loved ones if they beg for it. Watch #DAYS, weekdays on @NBC. pic.twitter.com/O6vija5ekn

— Days of our Lives (@nbcdays) October 4, 2019
Today is Halloween, and we don't know what might happen in Salem. This is a town which is named after a famous town all about witches and mystical powers, so it seems like some crazy stuff might happen. Will there be bad dreams and horrible situations with the dead? We know that a lot of people come and go from the dead around here like it's their job — well, we guess it is their job — and we don't know what else to do about it. We know that some people like to have things go their way around here, but we can guess that will not happen. We will see some people lose what they though they had. There is nothing that is going to make that right.
We will see Tony share some startling news with Marlena. We will see Lani get ready for her wedding day. We will see Xander end up confused about things when he runs into Hope and she doesn't seem to recognize him at all. This is going to be a day when strange things happen, and they seem completely normal because of the day. But, will we be able to believe all that we see as it is happening, or will we find out that it's all something we didn't see coming and a bad dream of sorts? We don't know, we don't care, and we cannot wait. We love this day in Salem and we know it won't disappoint.
Stay tuned for more Days of Our Lives and be sure to check out TVOvermind daily for the latest Days of Our Lives spoilers, news, and updates.