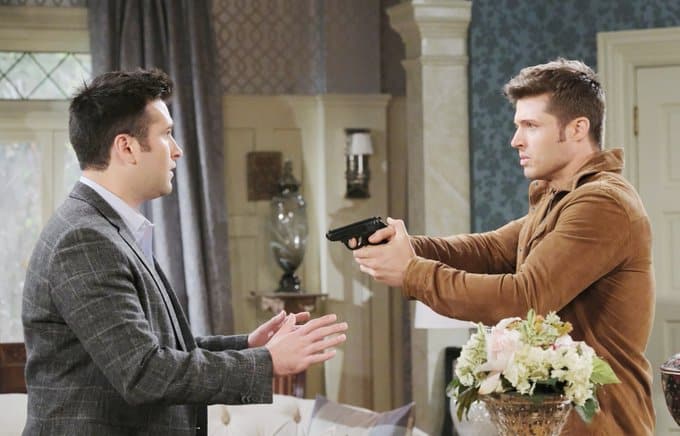 Days of Our Lives fans are confused and horrified and scared and not sure what to do. Ben has flatlined, and we are not sure that there is a chance he can come back from this. Ciara is doing all she can to make sure that he does not have to die, but every single moment she is not at the prison making it clear that she knows who killed Jordan and it was not Ben is a moment closer to his death. He is a man who has an entire life ahead of him. He has all the opportunities to change the world, to be the person he needs to be, to do the things that he needs to do, to be someone he needs to be. It's all there is to it, and there is nothing that will ever change the fact that he has such a future potential. But, is it too late for that now?
Rafe makes an appeal. He needs to get Evan to tell him where to find David so that they can do what they need to do to make sure this child is safe and happy and that he has a home with someone who loves him and will care for him, but this is not a stable man he is dealing with. Nicole, on the other hand, is a woman who knows a thing or two about secrets. She's had a few of her own over the years, and she recognizes that someone is not saying all they know, and that someone is Dr. Raynor — and Xander. She knows Xander is always lying and covering up things for his own personal gain, and that's a situation that isn't going to change. But, she's also making it her mission to find out what's up.
What's Happening on Days of Our Lives
In the latest #DAYS, Ben orders his last meal and asks Will to take care of Ciara if the worst happens. https://t.co/ZsCmioRrzb pic.twitter.com/0CNlWxWC8b

— Days of our Lives (@nbcdays) February 29, 2020
Heartbreaking.
What's Next on Days of Our Lives
Is this the end for Ben? As his execution begins, Ben calls out for Ciara. Watch #DAYS, weekdays on @NBC. pic.twitter.com/xjY70XXMYc

— Days of our Lives (@nbcdays) February 29, 2020
Jennifer is going to take things into her own hands today and have a conversation with Princess Gina. She remembers what happened the night she was pushed off the balcony, and she knows it was her. Of course, Gina is not all that worried about this nor does she care at all what anyone else thinks of her, so she's unaffected — largely. We would not be surprised if she pushed her again and tried to kill her one more time just for sport. She's that kind of woman. Then there are Justin and Marlena, who are forced to meet with Stefano. They have to negotiate what is going on with Kayla, and they have to try to fight for her freedom. They have something to work with — Marlena. If she can get him to believe that she will be with him, he might just do that. But, can she convince him she's willing to do this?
Then there is Chad, who has to do a thing that is not good for anyone when it comes to his father. We don't know if it's a form of brain-washing or a threat, or whatever, but Chad is about to fall under the spell of his father and do all his dirty work for him. This is not good news for him or his family, and this is going to put a significant strain on things as they are currently being handled. His marriage might not survive what Stefano asks his son to do from this point forward. It won't be anything good at all.
Stay tuned for more Days of Our Lives and be sure to check out TVOvermind daily for the latest Days of Our Lives spoilers, news, and updates.