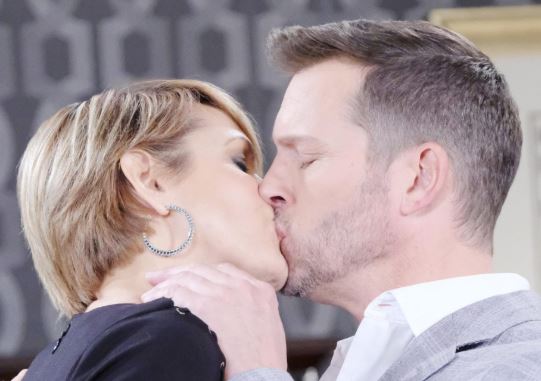 Days of Our Lives fans are all kinds of excited about the way the week is falling apart, and it's a thing. Hope made a surprising discovery, and she's not happy with the way things are going in her life. She's got a lot to handle, and finding Ted and figuring out what happened to him is her number one right now. She's not really sure what to do or where to go with her life in the middle of this situation, but she's figuring it out a little at a time. She can handle this, but she has to focus. Kristin, on the other hand, is making some decisions in her own life. She's finally getting Brady to fall for her, but her is actually Nicole. But Nicole is actually Kristin. We know, that doesn't make sense, but she's deciding whether or not she wants to focus on things like maybe telling him who she really is.
Rex, on the other hand, is not a happy man. He's lost it. He's lashed out on Eric and Sarah, and we get it. We get that this is not what they had in mind. This is not the life they thought they might live. This is not how they want to focus on things that aren't in their favor, and we totally get that. He's not happy that Sarah was honest with him about how she feels for Eric, and he's letting them know that he feels their situation is one that doesn't work for him. He's not a happy man right now, and we get that. We get that he has a lot going on, and that he has a lot to handle, but he's lost his mind, and it's been an ugly situation. Can he get it together again?
What's Happening on Days of Our Lives
Gabi's wedding look was everything! 😍 #DAYS
📸: @camilabanus pic.twitter.com/mPNdmjwDSP

— Days of our Lives (@DaysPeacock) August 7, 2019
We completely agree!
What's Next on Days of Our Lives
Rex's wife left him for his brother, but things are much worse for Ted. Watch #DAYS, weekdays on @NBC. pic.twitter.com/XAGLk3LhRX

— Days of our Lives (@nbcdays) August 2, 2019
Gabi is trying to do what she can for her own future, but she's is clearly torn about her life in the moment. She's been in love with Stefan for some time now, but she's trying so hard to deny this as her truth. She's not happy with the way things are going to work for herself, but she's not sure how to focus on her life in terms of what she needs to do. She hates Stefan. Her entire plan from the start was to take him down and ruin his life, and she's felt as if she was doing a good job of it. However, she didn't know she was falling in love with him and that things would work out like this for her. She's been torn from the start, and we get that. We get that she has things on her mind and in her heart, and we don't get it. She's torn, and she cannot just let herself be happy.
Additionally, however, we also know that there is a lot happening for Rex, who is not sticking around. He's not going to get his way in life, and he's not going to see things work in his favor. He's lost Sarah, and he knows it. She has feelings for Eric, and he could not be with her if he wanted to knowing that she has feelings for another man. He decided that he cannot handle this anymore, and he is leaving town. He's done, he's over it, and he's not going to stick around to find out if there is more to this than we thought.
Stay tuned for more Days of Our Lives and be sure to check out TVOvermind daily for the latest Days of Our Lives spoilers, news, and updates.